Shop ­­local and get to know your farmer at this veteran-owned Tennessee Century Farm!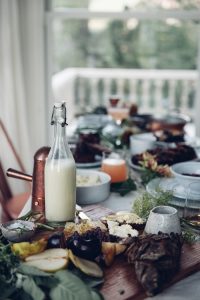 During the summer months, you could get Dobson Farms' all natural, farm-raised beef, pork, chicken, turkey, and fresh brown eggs at the farmers' markets in Donelson, Gallatin, Old Hickory, and Madison.
Now that the traditional farmers market season has come to an end, Old Hickory's Lawrence and Clarke Cacti Co. will hold a winter market on Thursday nights 5-8 pm, starting November 1st, where you can pick up Dobson Farms products.
You can also buy directly from the farm, which is located at 20 Sanders Lane in Mt. Juliet. For appointments, text or call 615-829-0122 or email [email protected].
Dobson Farms also offers customizable CSA packages, available month to month, or on a 3- or 6-month subscription. Follow the Dobson Farms Facebook page for details about the Poultry Lovers package, the Breakfast Lovers package and other CSA packages, as well as seasonal offerings, such as mums, pumpkins, elderberry syrup, and holiday turkeys.  Although this year's Thanksgiving turkeys are sold out, you can message Michael Dobson if you're interested in a Christmas turkey.  Need a gift for that one person that's hard to shop for?  Dobson Farms even has gift certificates.
Feel good – literally and figuratively – when you buy from Dobson Farms.
The Dobson Farms animals are raised in the most humane and natural ways possible, resulting in a healthier, better tasting, and more pure product.  Dobson says, "All our animals live fat and happy lives, receiving quality feed manufactured by a local feed mill from locally sourced ingredients, tailored to the animals nutritional needs, as well as all the fresh forage they choose to eat, and have daily access to roam and laze about at their own convenience."
Products are free of added antibiotics, steroids, hormones and preservatives, and they are USDA inspected and vacuum sealed for safety and quality.
When you buy from Dobson Farms, you're supporting a local farmer and Iraq War veteran, Michael Dobson. The Dobson family has owned and farmed their land since 1803, making it a Tennessee Century Farm.
window.dojoRequire(["mojo/signup-forms/Loader"], function(L) { L.start({"baseUrl":"mc.us13.list-manage.com","uuid":"b3560441a030ec3ce9b8bfb77″,"lid":"4f35c52094″,"uniqueMethods":true}) })