There's a new business in town that everyone should know about!
Started by a 23-year old Auburn University graduate whose career plans got hijacked by the pandemic,
Junkdrop Nashville
is a family-run junk removal business that is connecting people who have too much with those who don't have enough. We love how this business meets a practical need for some and fulfills an even greater need for others, all while keeping costs low for the customer!
Junk Removal Services
Junkdrop's services range from picking up single items like pianos, appliances, mattresses, or other furniture to full clean-outs of homes, offices, garages, and storage units. Then they do everything in their power to get your reusable materials to those who need it most through their non-profit referral partners.
Non-Profit Referral Partners
🛋️   Junkdrop cleans, refurbishes, and hauls furniture "from your home directly to theirs" through the
Oasis Center's "Rapid Rehousing"
program. This program provides rental assistance to 18-24 year olds in Nashville who are experiencing homelessness.
🛏️  Junkdrop donates some items such as clothes, dressers, and desks to
Goodwill
where the people of Nashville can build skills, find jobs, and grow their careers.
🧰   Wood, metal, or construction equipment can be repurposed by
Habitat for Humanity
on projects in the Nashville area.
🚲   All bikes and books for youth, high school aged and below, are donated to
Ride for Reading
to provide children here in Nashville the opportunity to develop healthy habits.
👕   Children outgrow their old clothes, styles change with the seasons, but
People Loving Nashville
help get those clothes out to the homeless and get those in need back on their feet.
How It Works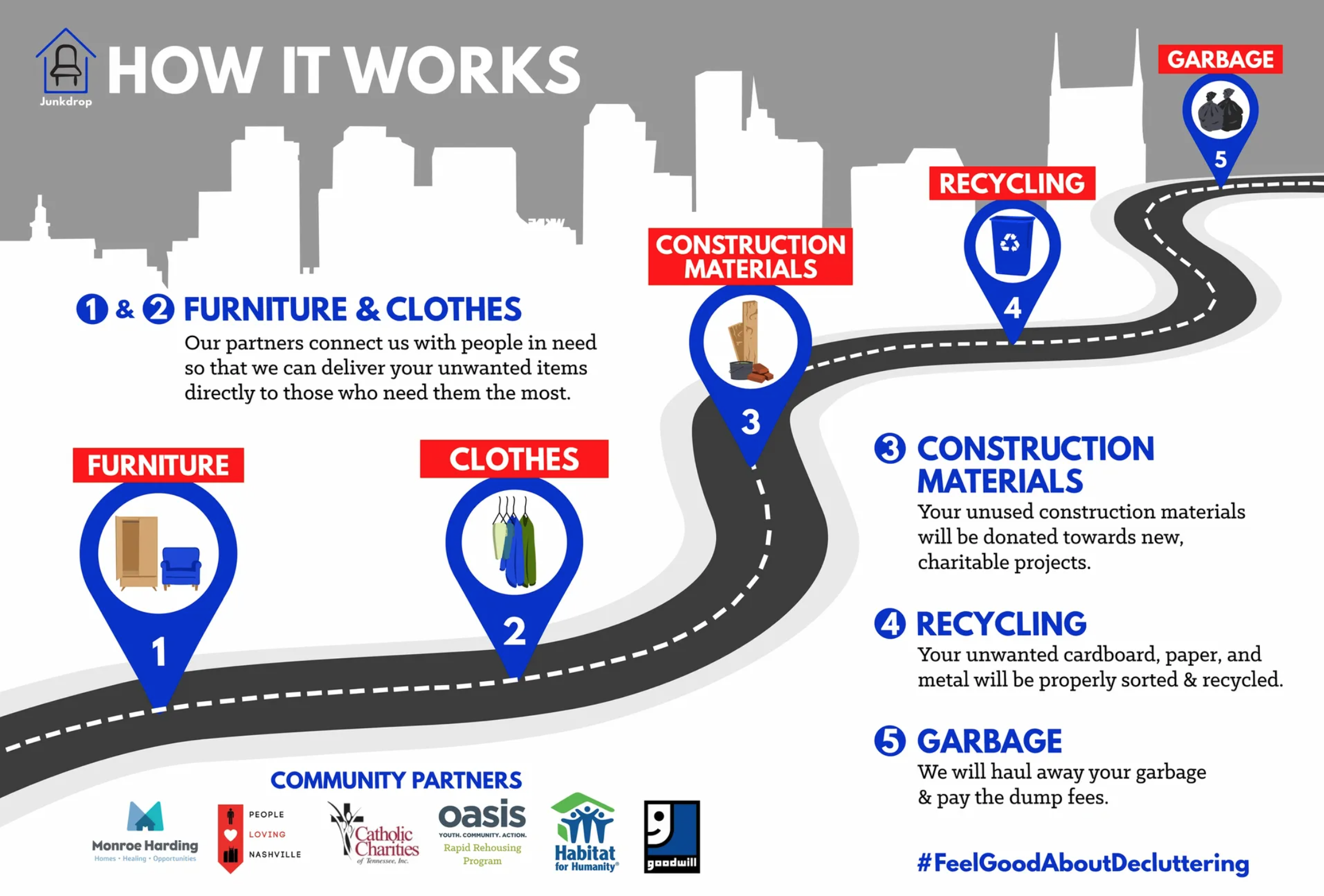 Follow them on Facebook and Instagram for updates and receive a confirmation text with a picture of your donated items in their new home!