"When I was a boy and I would see scary things in the news, my mother would say to me, 'Look for the helpers.  You will always find people who are helping.'" ~ Fred Rogers
Middle Tennessee doesn't have to look far for its helpers. They're everywhere, offering up volunteerism, donations, thoughts, prayers, kindness, and hope this past couple of months – first in the aftermath of the March tornadoes and now during the health and economic crisis. 
Service Industry Helpers
Our hearts go out to the local service industry in particular.  So many family-owned restaurants and bars were heavily damaged by the tornadoes, and in a lot of cases destroyed altogether, leaving a great number of employees out of work.  In spite of the devastation throughout their industry, restaurants and food trucks stepped up to the plate to feed and raise money for their fellow service workers and offer job opportunities, and to feed volunteers and families impacted by the storm and raise money for tornado relief efforts.  Unbeknownst to them at the time, most would see an overwhelming drop in business caused by the health crisis just weeks later.
Restaurants, such as O-Ku and Oak Steakhouse, hosted community cookouts; and in spite of having no electricity, Butchertown Hall fired up the grills and fed the Germantown community.  Noble's Kitchen & Beer Hall, after sustaining heavy damage from the storm, put their meats on the smokers and gave it to anyone who needed it.
Other restaurants hosted events to raise money for tornado relief, such as Green Door Gourmet's benefit dinner, with courses prepared by chefs from The Salted Table, Nectar: Urban Cantina, Pelican & Pig, D'Andrews Bakery & Café, Bongo, and Ellington's; and Josephine's partnership with Standard Proof Whiskey Co. to host an event to support service industry tornado victims.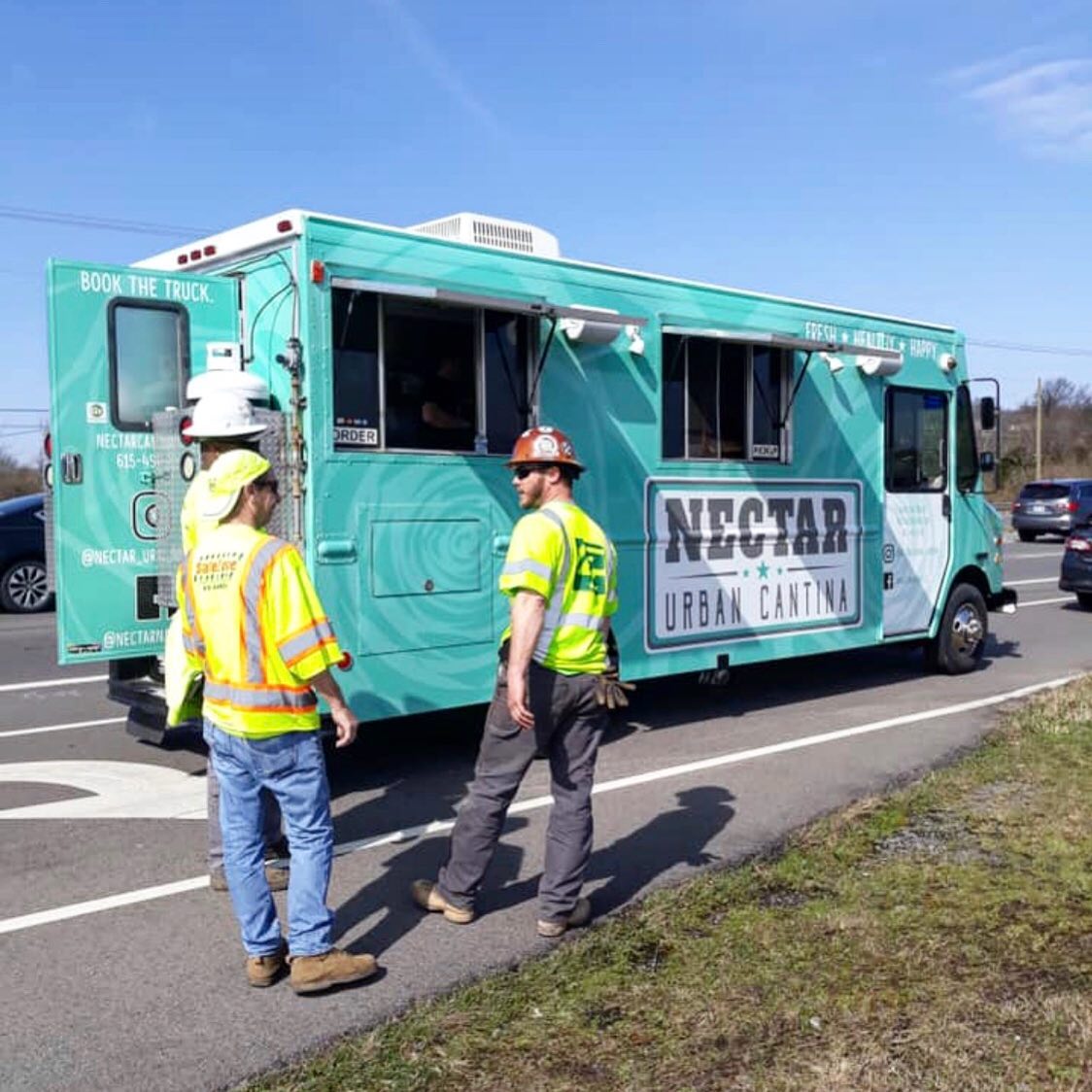 It would be almost impossible to list every restaurant that contributed to the tornado relief efforts, but we've at least started a list here.  These establishments offered, and in some cases delivered, meals to relief workers and families impacted by the tornadoes and/or donated all or some proceeds from sales to relief efforts: HomeGrown Taproom & Kitchen, Rocky's Wing Shack, Mother's Ruin, The Picnic Tap, M.L. Rose, Redheaded Stranger, Husk, Arnold's Country Kitchen, Sedona Taphouse, Uncle Bud's, Donelson Café & Catering, Whitt's, Nectar: Urban Cantina; Shipley's, Caliber Coffee, Franklin Juice Company, Nomzilla! Sushi Et Cetera, Pastaria, Barista Parlor, Calabria Brick Oven Pizza, Fletcher's, Phat Bites, Adele's, Pemrose, Dallas & Jane, Hugh Baby's, Born and Raised Market, Grain + Honey Bake Shop, Papa Turney's, Edley's BBQ, Martin's BBQ, Constant Smoke BBQ, Zulema's, Margot Café & Bar, Pearl Diver, Café Roze, Retrograde, Kettner Coffee Supply, Lip Smackin' Food Truck, Citizen Kitchens, Love Peace and Pho, The Grilled Cheeserie, Deacon's, Butcher & Bee, Avo, Tennessee Brew Works, Gray & Dudley, Farm Burger, The Ridge, Lou Nashville, Ellington's, Smokers Abbey, Walden, Etch, Southern Grist Brewing, Germantown Pub, Otaku Ramen, Two Ten Jack, Grecian Family Restaurant & Bakery, Switters Iced Coffee, and the list goes on.  
Owners of businesses, such as Tailgate Brewery, Nicoletto's, and Anzie Blue, offered shifts to those in the service industry who lost their jobs as a result of tornado damage.
Not only did Baked on 8th donate all of their proceeds for the month of March to various organizations helping with tornado recovery efforts, but more than 70 local bakers, such as HomeStyle Bakery and Sifted Heart Confections, came together as the Nashville Cookie Collab and donated cookies to raise money for tornado relief.
The Fox Bar & Cocktail Club offered a commemorative pin for sale in memory of Albree Sexton and Mike Dolfini who lost their lives in the tornado, with all proceeds being given to a tornado relief fund for service industry workers.
Other restaurants sold merchandise to raise money for relief efforts, such as the "Donut Forget I Love You" tee from Five Daughters Bakery and the "Love Biscuits, Love Others" tee from Biscuit Love.
TennFold Brewing gave free pizzas to hospitality industry people currently out of work.
Retail Helpers
Good Wood Nashville has been selling Nashville Strong signs and donating half of the profits to a small business of the buyer's choice, benefitting hundreds of small businesses.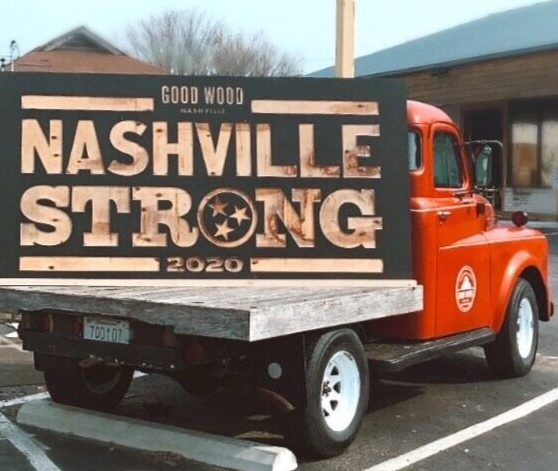 Thistle Farms donated proceeds from candle sales to the Community Foundation of Middle Tennessee's disaster relief fund. Abednego Boutique, while temporarily closing its brick and mortar location due to power outage, donated a portion of online sales to relief efforts in Germantown. Other retailers, such as Flora Plant Shop, Bates Nursery, The Kind Poppy, Halcyon Bike Shop, and Skin Pharm donated a portion of sales proceeds to disaster relief.  Vinnie Louise offered snacks and drinks to first responders, volunteers, and anyone else in need following the tornado.
Specific t-shirts have generated a significant amount of donations for disaster relief, such as Music City Shop's "Keep The Music Playing" shirt, @NashvilleTn's "I Believe In Nashville" shirt, and Project 615's "Nashville Strong" shirt. Rocket Shirts is donating $10 to a small business of the buyer's choice for every "Here For Good" shirt sold, Southeast Impressions is offering a similar deal on t-shirts for Wilson County businesses, and other businesses, such as 525designs.com and SaCo Designs, have donated shirt sale proceeds to relief efforts.
Now, for every purchase of their "Be A Hero, Support A Hero" shirt, Project 615 is donating 5 masks to local healthcare and essential workers; and Draper James is donating dresses to teachers.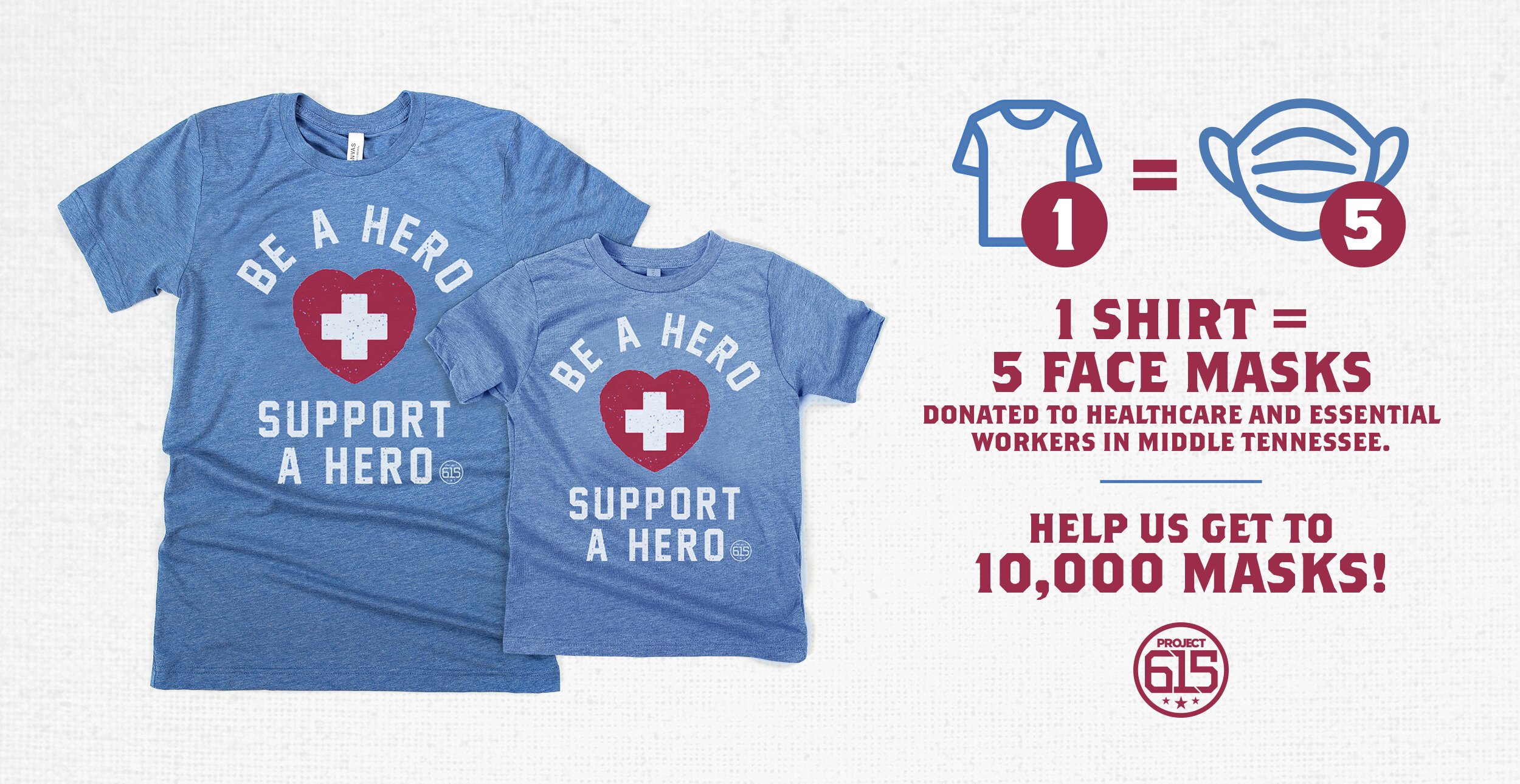 Music & Art Helpers
Gibson Guitars and Blues Vintage Guitars donated instruments and equipment to musicians who lost their own equipment in the tornadoes, while other businesses like Sapelak Guitars donated a portion of proceeds to relief efforts.  Others like Marathon Music Works, Boulevard Record Shop, and Exit/In hosted tornado relief benefit concerts.
Tornado relief funds have been raised and donated by Anderson Design Group through sales of fundraiser posters and by Sisters Whimzy through sales of photography prints.  Relief funds also have been raised by way of painting classes offered by The Basement Marketplace and Dabble Studio; and Smart Art + Craft Supplies has donated a portion of sales to relief efforts.
Local author Karen Kingsbury took to Facebook to rally help for Landmark Booksellers in Franklin, resulting in over $50k in online sales in one day.
Health & Wellness Helpers
Look East helped folks replace glasses and contacts lost in the tornado and offered complimentary exams to patients with eye injuries from the tornado.
Lifetime Hearing Clinic loaned replacement hearing aids to individuals who lost theirs due to the storm and worked with the hearing aid manufacturers to help get hearing aids replaced, free of charge.
Chiro Nash offered free chiropractic care for tornado victims and individuals actively involved in clean-up efforts.
Other Helpers
Elm Hill Veterinary Clinic and other vet clinics offered care and boarding to injured and misplaced pets; as did Tidy Dog Pet Supply and Salon and other pet stores.
Music City Montessori offered free childcare following the storms.
The Adventure Park at Nashville donated ticket sales to disaster relief; Nurture West offered complimentary restorative yoga instruction; and CycleBar and Cycle Haus organized tornado relief rides to raise money for relief efforts.
Level 13 Hair offered free shampoos and styles to tornado victims; and The Hideout Salon and Lounge and Honey Magnolia Hair donated a portion of proceeds to local disaster relief funds.  Now, Zen Nails has converted its salon into a small factory, making masks, gowns, and other personal protective equipment for healthcare workers.
White Bridge Auto Wash offered free glass clean-up and water extraction for those impacted by the storm.
Tri-Star Moving and Muscleman Movers offered free moving services.
Churches and congregations from all communities came together to offer shelter, showers, clothing, meals, charging stations, counseling, financial assistance, and love to people affected by the storms, as well as coordinated groups of volunteers to help clear, clean and rebuild homes.  Many of these churches converted space in their buildings to classrooms for schools that were destroyed.
Contractors, construction crews and hardware stores pitched in, too. The Oakley Lumber Company offered to sell product at cost to help with rebuilding expenses; The Roof Store offered free tarps for damaged homes; and DPR Construction offered a team of workers and access to heavy equipment. ACE Hardware in Donelson fired up the grills and fed families impacted by the storms and volunteer workers. 
Please Support Our Small Businesses
Small business is in our family roots, from house builders to restaurant owners.  As a small business, our Living Local Nashville team strives to support other small businesses.  We couldn't possibly name all the local establishments that have helped out during the last couple of months, but we've diligently tried to name the ones we're aware of.  Many others have been destroyed by tornadoes or are struggling through the social distancing required by the health crisis. Small businesses add to the value of our communities. We need them, and when we get through this crisis, small businesses will need us, more than ever.  Please make every dollar count and eat and shop local.
Helper Central
We couldn't write a blog about helpers without a shout-out to Community Resource Center, who continues to work tirelessly to help those impacted by the tornadoes and the health crisis.   So many helpers showed up after the tornadoes that CRC encouraged carpooling and had specific parking instructions to accommodate so many people pouring in to volunteer.  Families, adults and teens alike, were working side by side with firefighters, Nashville Predators players and staff, and other volunteers to receive and sort donations.  In fact, so many goods were donated that heavy equipment, semi-trucks and licensed operators, as well as warehouse space, were needed to sort and redistribute it all. 
Neighborhood Helpers
In the aftermath of the tornadoes, neighbors opened up their homes to those who lost their own; fostered and cared for pets that were injured or misplaced; washed countless loads of laundry and cooked for those without power; donated to food pantries, fire and police stations, line workers; gave to diaper drives, toiletry drives and sock drives; covered roofs, cleared debris from yards and picked through the wreckage to salvage what could be salvaged; and continue to help neighborhoods rebuild. 
While many folks in Middle Tennessee are still trying to put their lives back together as a result of the tornadoes, they must also deal with the health crisis.  So now we have helpers who are sewing masks from home for frontline workers and neighbors; checking on and shopping for elderly neighbors; sending food to hospital workers; "chalking the walk" and holding neighborhood "bear hunts" for the kids; lighting candles and lanterns, even Christmas lights in some cases, to keep spirits lifted; and sharing antibacterial soap, toilet paper, and other necessities with complete strangers.
We see teachers making themselves available to students by phone and email, working with schools and volunteers to provide meals to students in need, and coordinating parades to spread some cheer to their students.  We see local artists entertaining us online with free concerts and reading bedtime stories to children on social media; restaurants and bars, like HomeGrown Taproom & Kitchen, hosting virtual happy hours to keep us connected; distilleries, like Corsair, switching their operations to produce hand sanitizer to donate; nursing homes, like Lakeshore Heartland, scheduling "window visits" to keep their residents connected; and personal trainers and yoga instructors giving free online instruction to keep folks moving.
Thank You To All the Helpers!
Everything that Middle Tennessee has endured the past two months is heartbreaking, to say the least, but it's also heartwarming beyond measure to see so many helpers. Helpers are the heartbeat of our communities and we are so grateful for all who make Nashville such a wonderful place to live, especially those who have been or have become an essential thread in the fabric of our lives over the last few weeks.
Medical workers, civil service employees, delivery drivers, law enforcement, first responders, sanitary workers, bankers, farmers, pharmacy workers, factory workers, truckers, non-profit workers, grocery workers, mail carriers, military personnel, utility workers, and all others who keep the world moving… As Alicia Keys says it best in her new song, "you are the engine that makes all things go." Thank you for all that you do!