Guest post by Stephanie's husband, Jason Miller
We recently went to The Catbird Seat, which is a restaurant located off of Division Street in Nashville.  Our reservations were at 8:45 and we arrived about an hour early so we decided to try to get some drinks in The Patterson House which is located just up some stairs from the entrance to the restaurant.  The bar was at capacity, however, the host had champagne on ice, so we relaxed in the waiting room for a bit until an opening was available.  After spending some time waiting for an opening we decided to go on down to wait outside the restaurant.  There is no space inside to wait and the hostess was outside to let the diners in one group at a time.  This restaurant is a bit of an experience and unlike any establishment that we have been to.  When it was our turn to enter the restaurant we were given instructions on how to make it up to the dining room and were let in the door.  We entered alone and the entrance was somewhat unusual, dark with lasers shining down onto the floor and walls.  We had to take an elevator upstairs and stepped off into a dark hallway.  We were greeted, our jackets were taken, and escorted into the dining area.
The dining room was bare of decorations and seating was a U-shaped bar surrounding an open kitchen.  We were seated and within a minute the sommelier was providing us with our drink options.  We opted for a wine that Stephanie chose but they offer a drink paring and on a future visit I would probably go with the paring for the full experience.  However, the wine was very good, and the overall experience was still perfect without the paring.  After choosing our wine, our adventure in food proceeded nearly non-stop for the next three hours with twenty-two different plates of food of a variety that we have never experienced before.  Not only the food was a work of art, but also, the utensils and plating which were sourced from across the world.  We asked if there would be a menu in the beginning and we were told that there would not be.  Not knowing what to expect next kept us in suspense as we watched the food being prepared before us.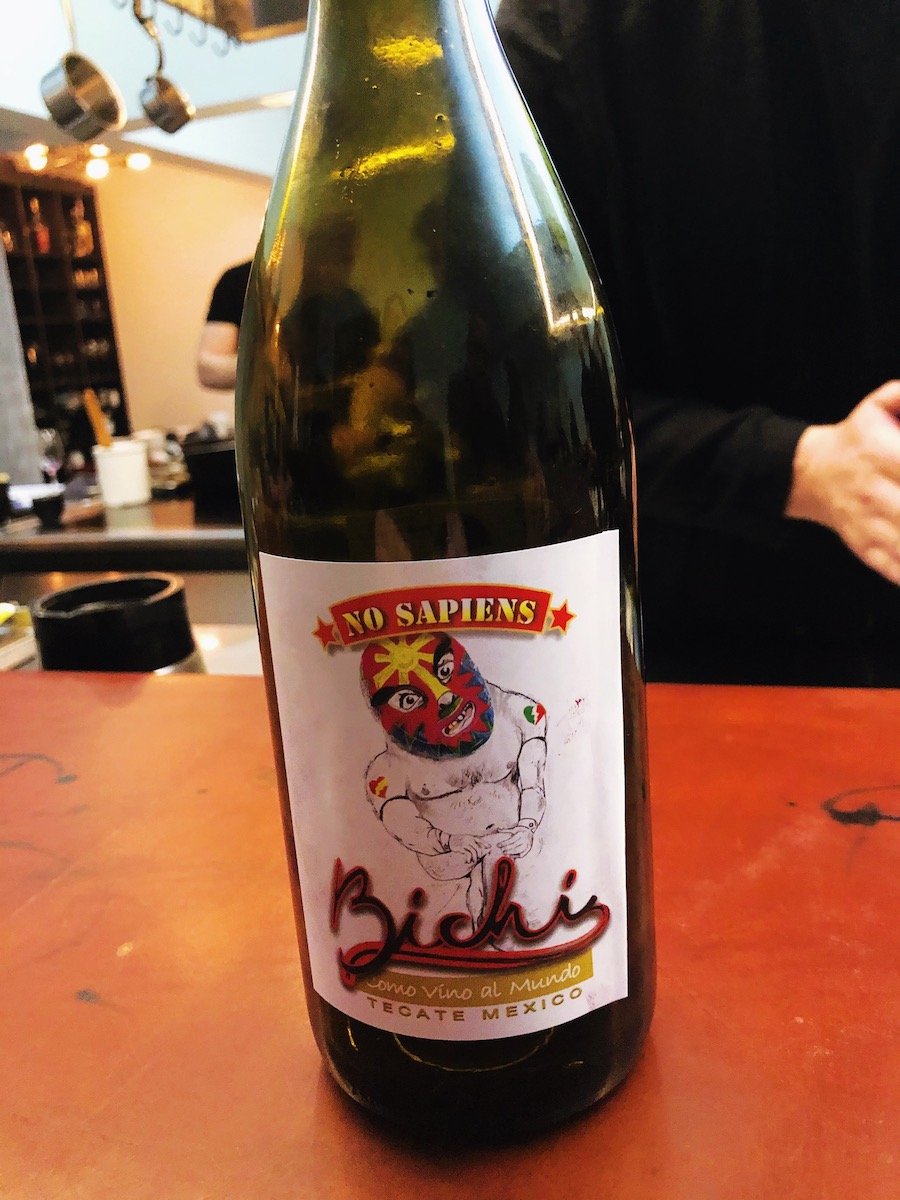 We were informed that the first course would be a variety of finger foods.  The first up was soused Japanese sardines on a cracker quickly followed by Squid quill.  We had no idea what a Squid quill was but apparently, they are clear and look quite a bit like plastic silverware.  The quill was filled with barbequed meat and the quill provided a crunchy texture that quickly dissolved.  A question was asked as to whether I should have eaten that, and we were informed that everything on the plates are edible.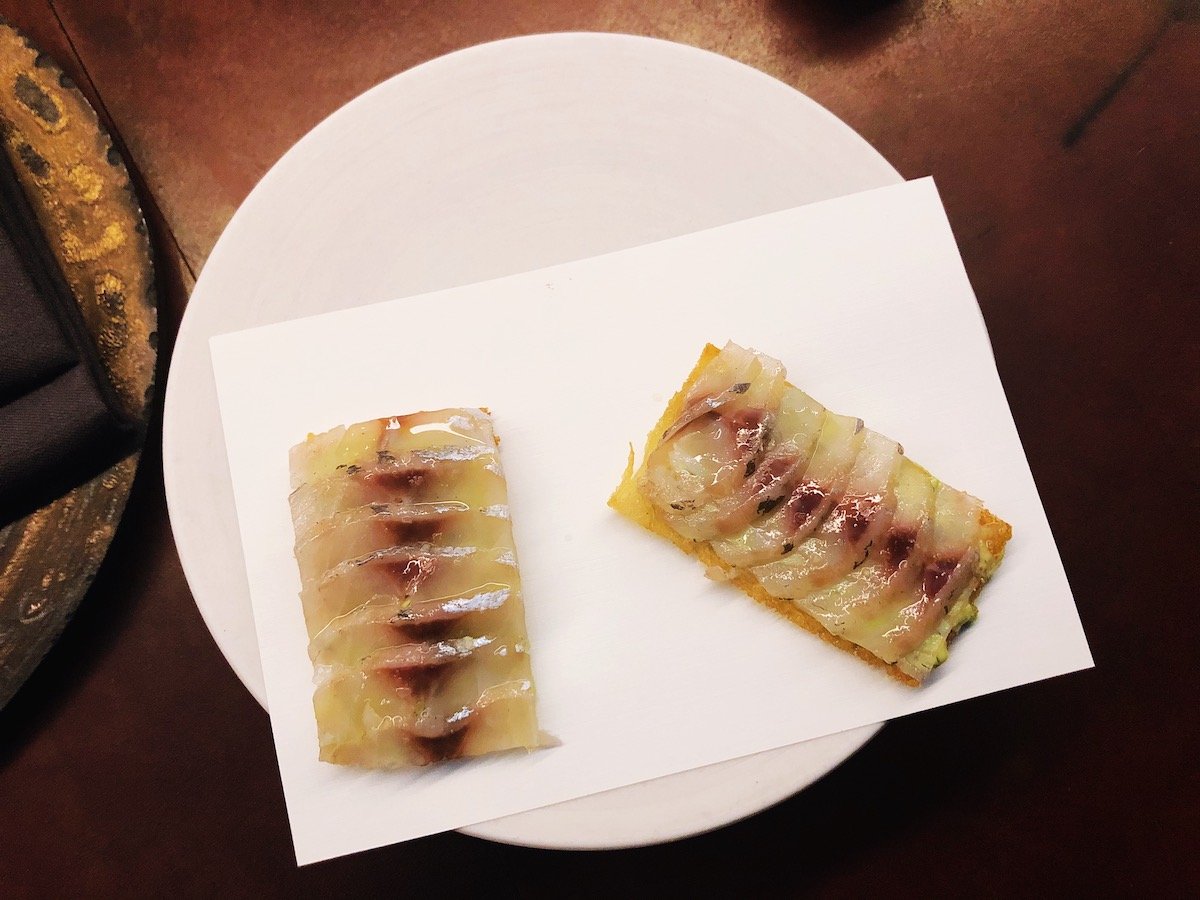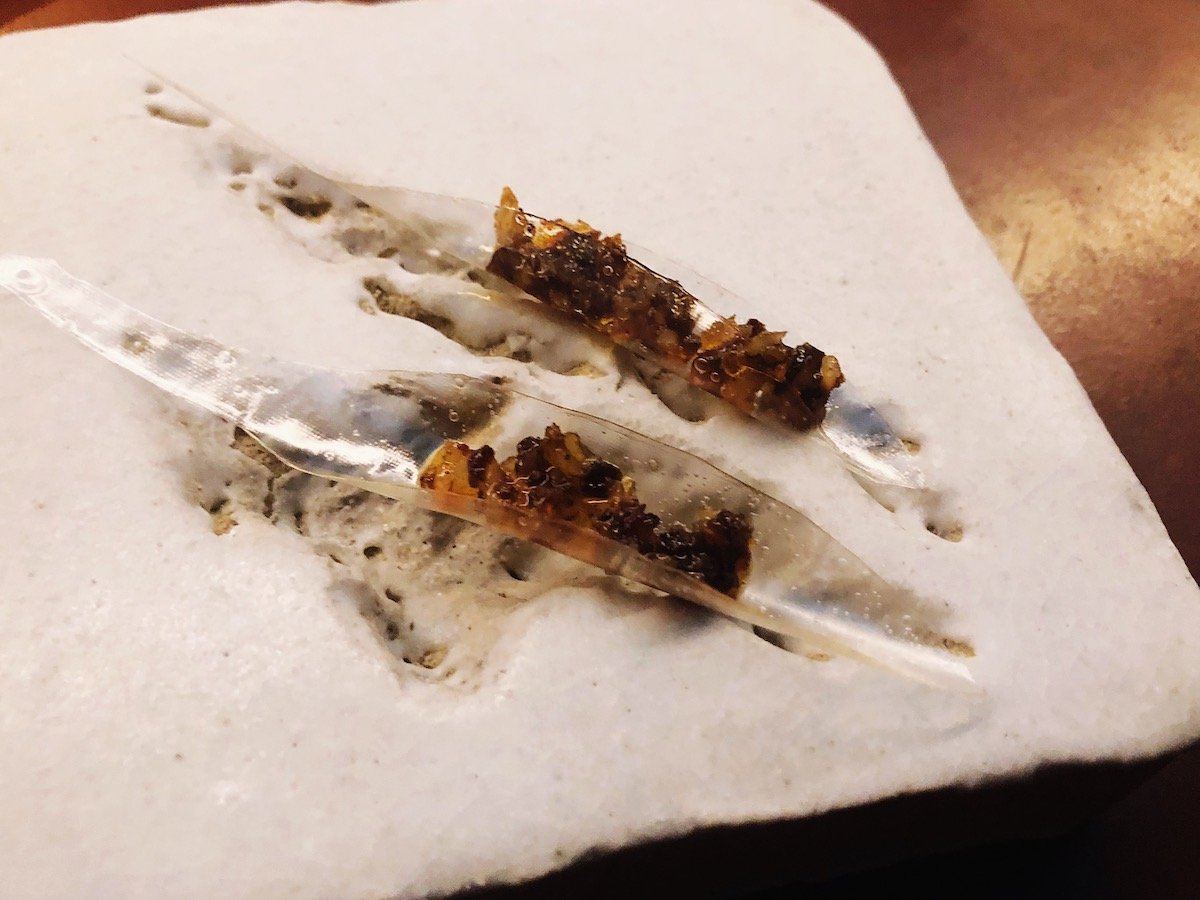 Next, we were served crispy braised collard greens and oysters.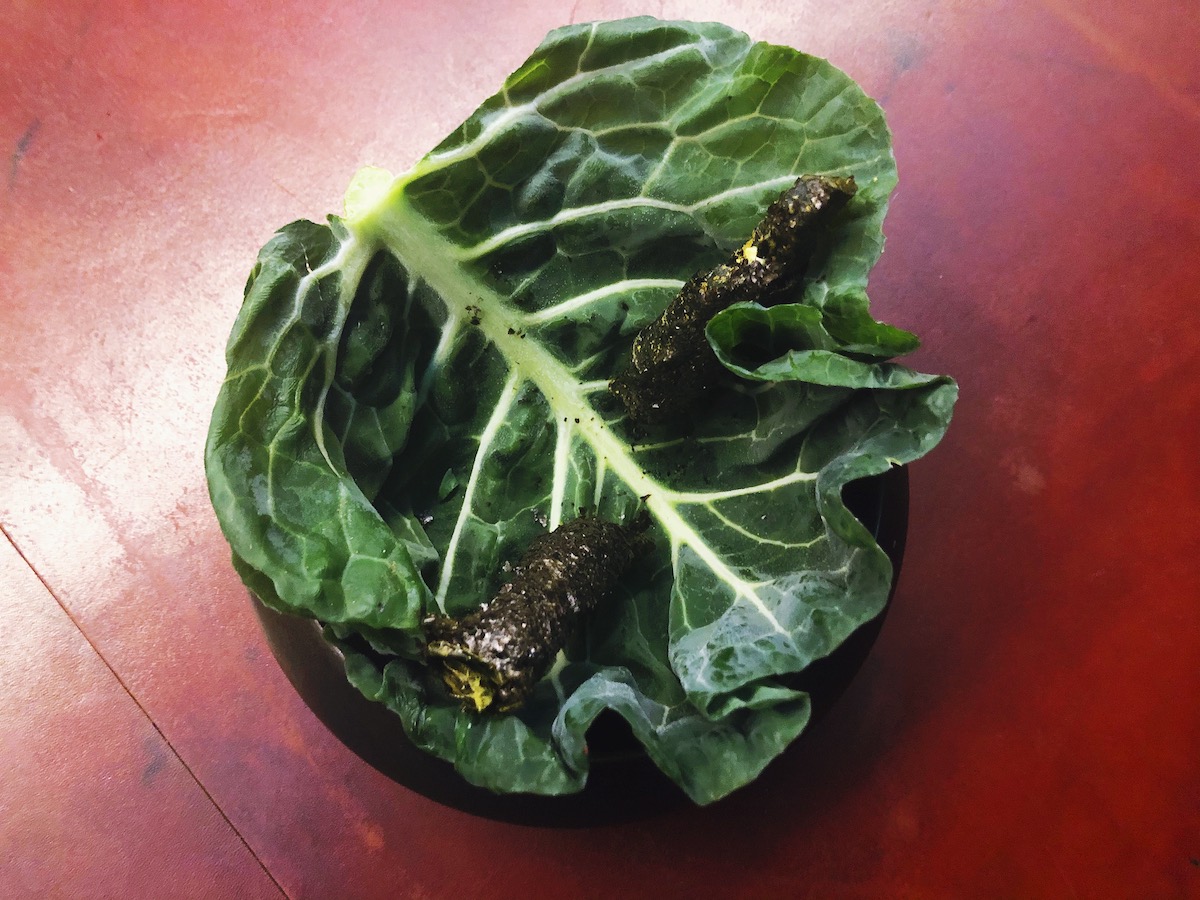 Monkfish liver, beer toffee, pear, caraway.  I don't know that I will ever eat monkfish liver again, though someone must like it.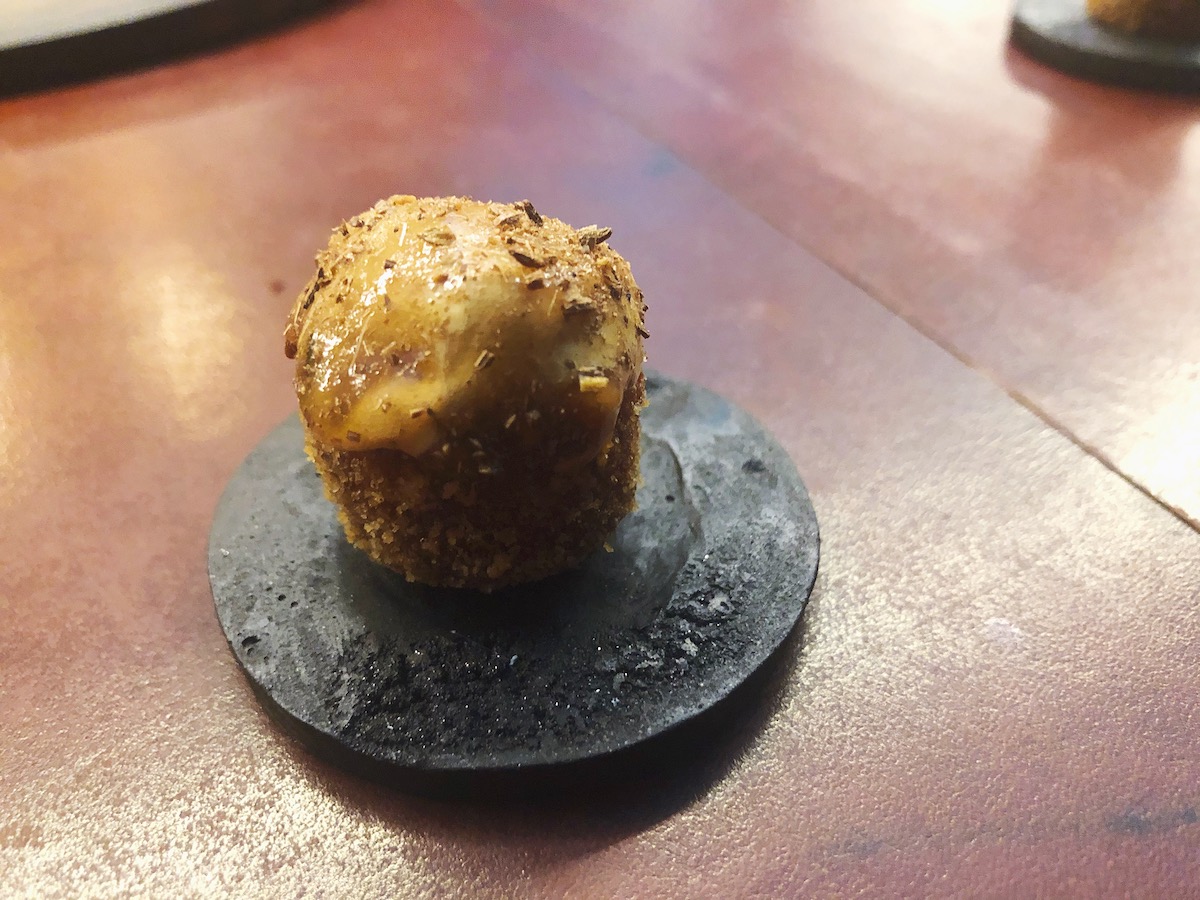 Goat's butter, roasted strawberry, salted herring roe.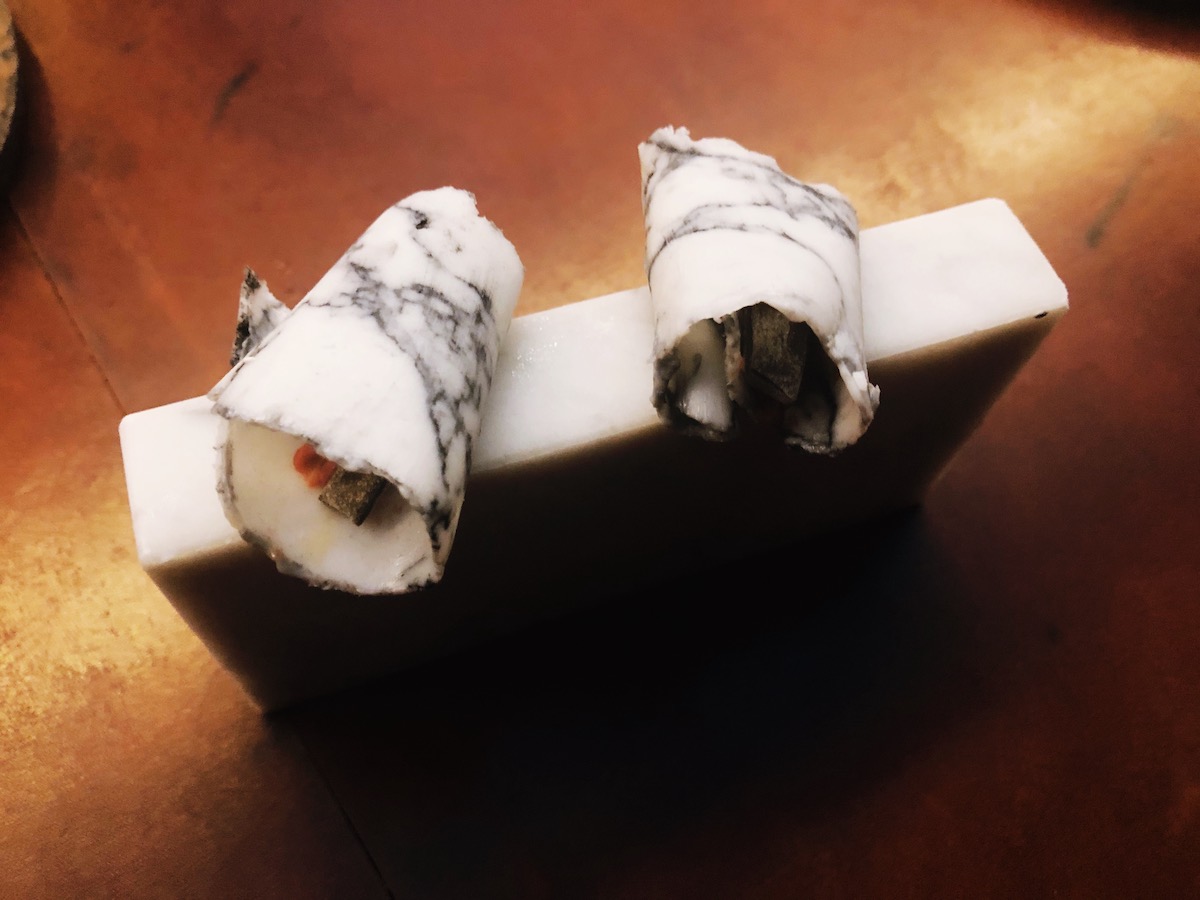 Quince fritter and smoked beef tongue.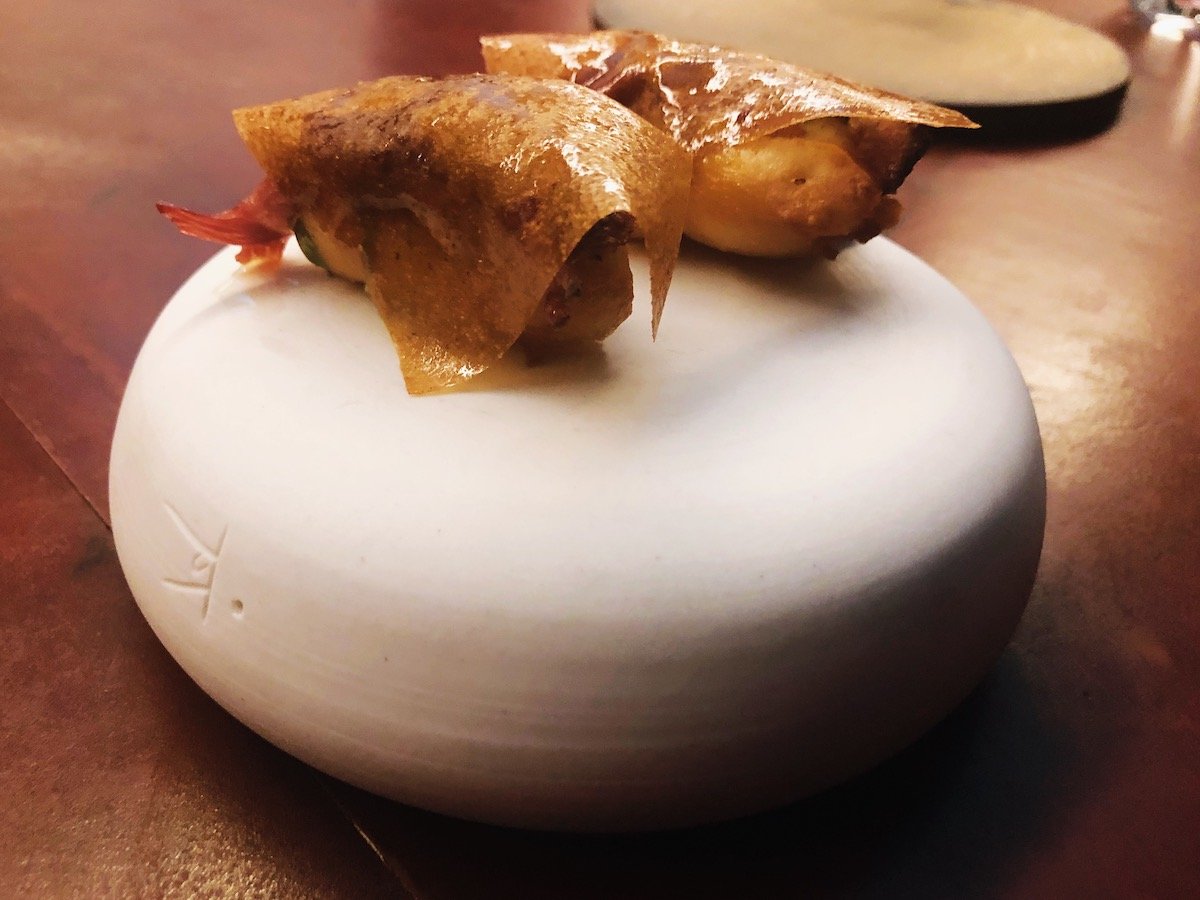 Frozen duck eggs and smoked trout eggs.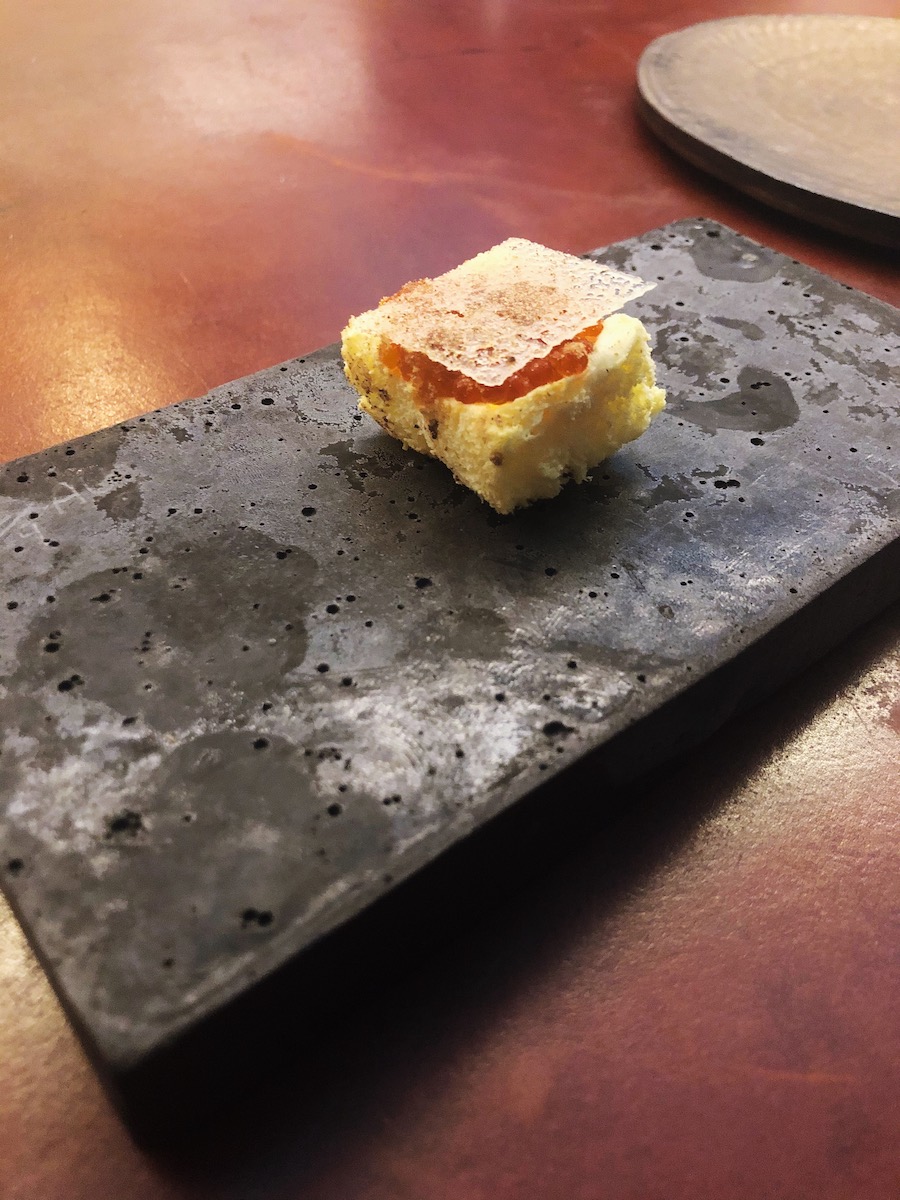 Before your reservation, you are contacted by the restaurant asking if there are any dietary restrictions so they can customize your menu.  Stephanie does not like eggs, so she requested that they not be included in hers and her substitution in this instance was flowers.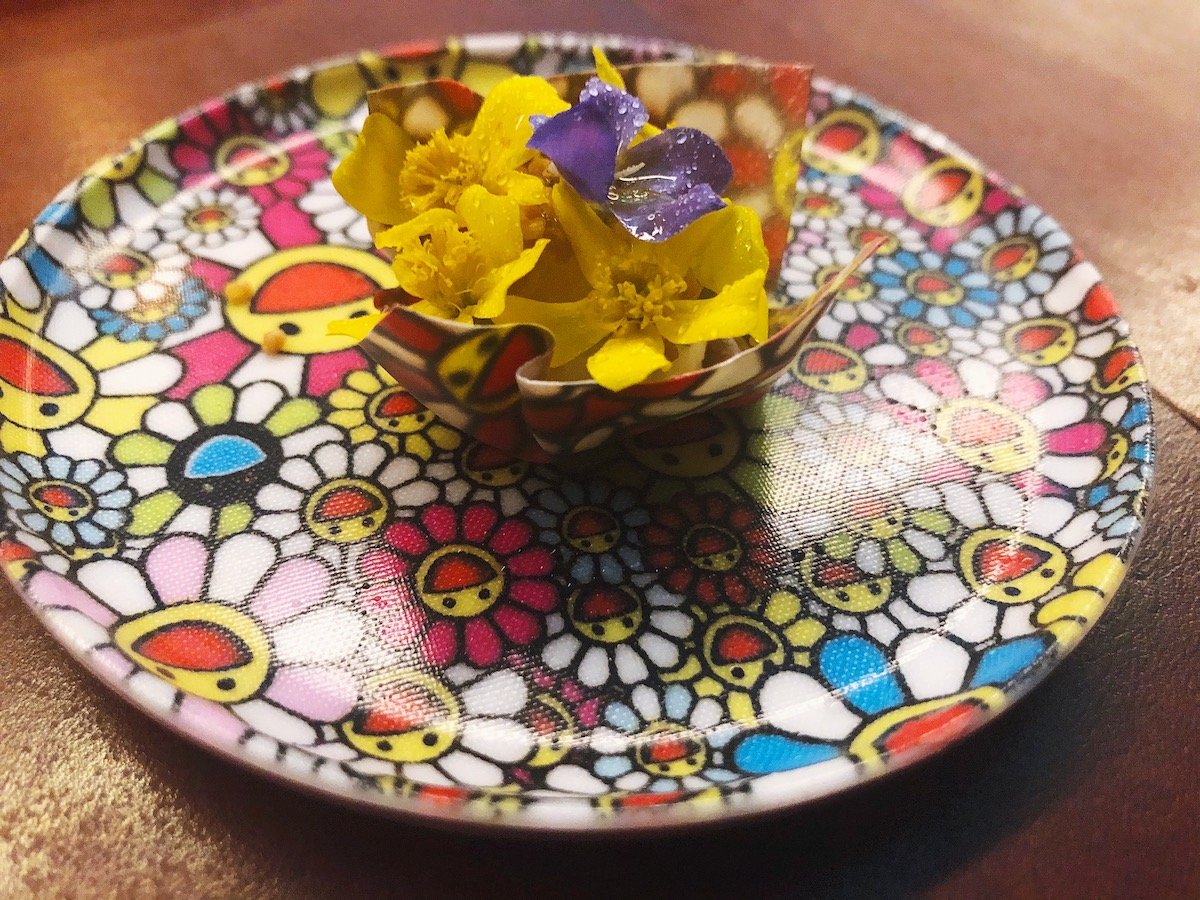 The following courses were more like mini main courses and silverware was introduced.  Try to get a little bit of everything in each bite as some of the bowls are deceptive and you can't tell that there is something at the bottom.  So, dig in to get the full flavor profile of the dish.
Endive, vanilla, chickpea mayonnaise.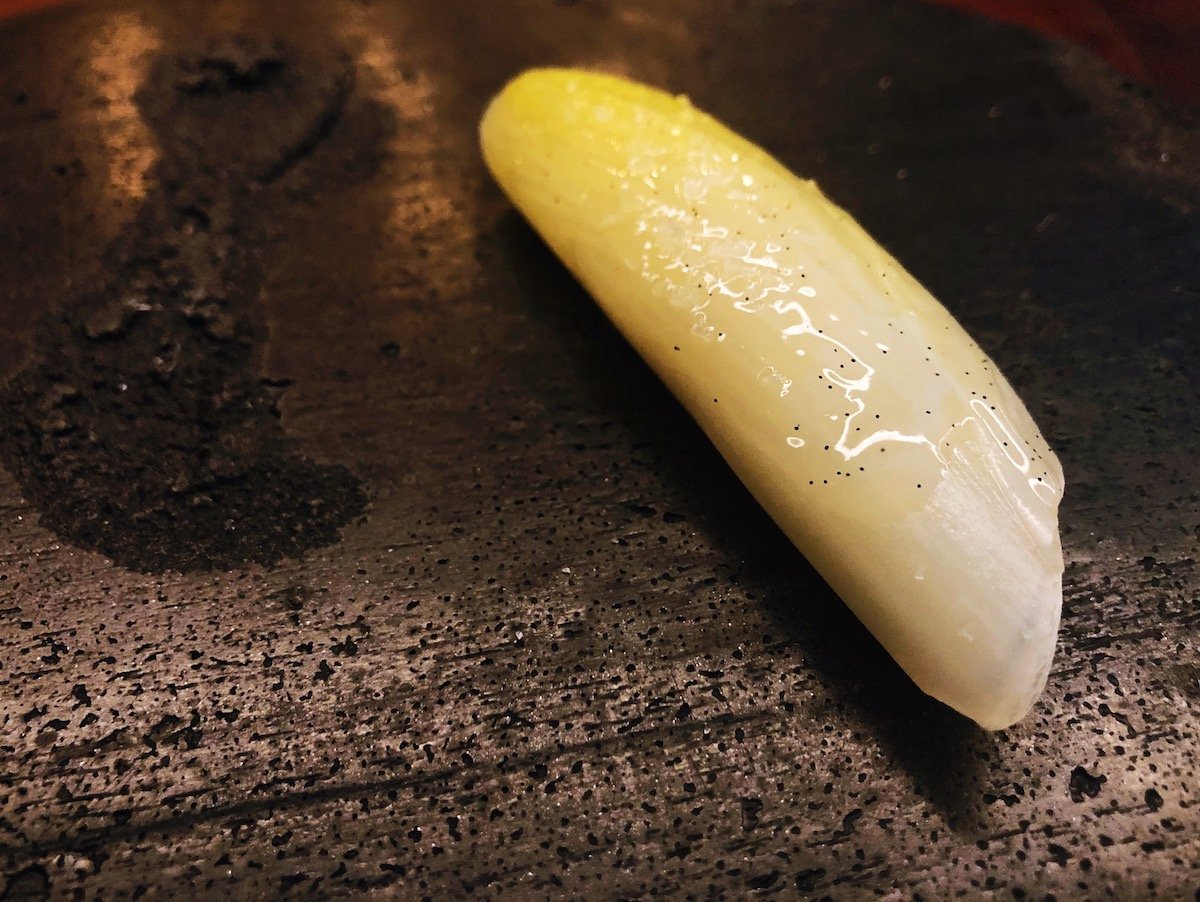 Bananas and urchin, this is an example of why you should try to get a little of everything in each bite.  The banana is on the bottom and between the urchin and banana is a crispy layer that provided a good crunch to the dish.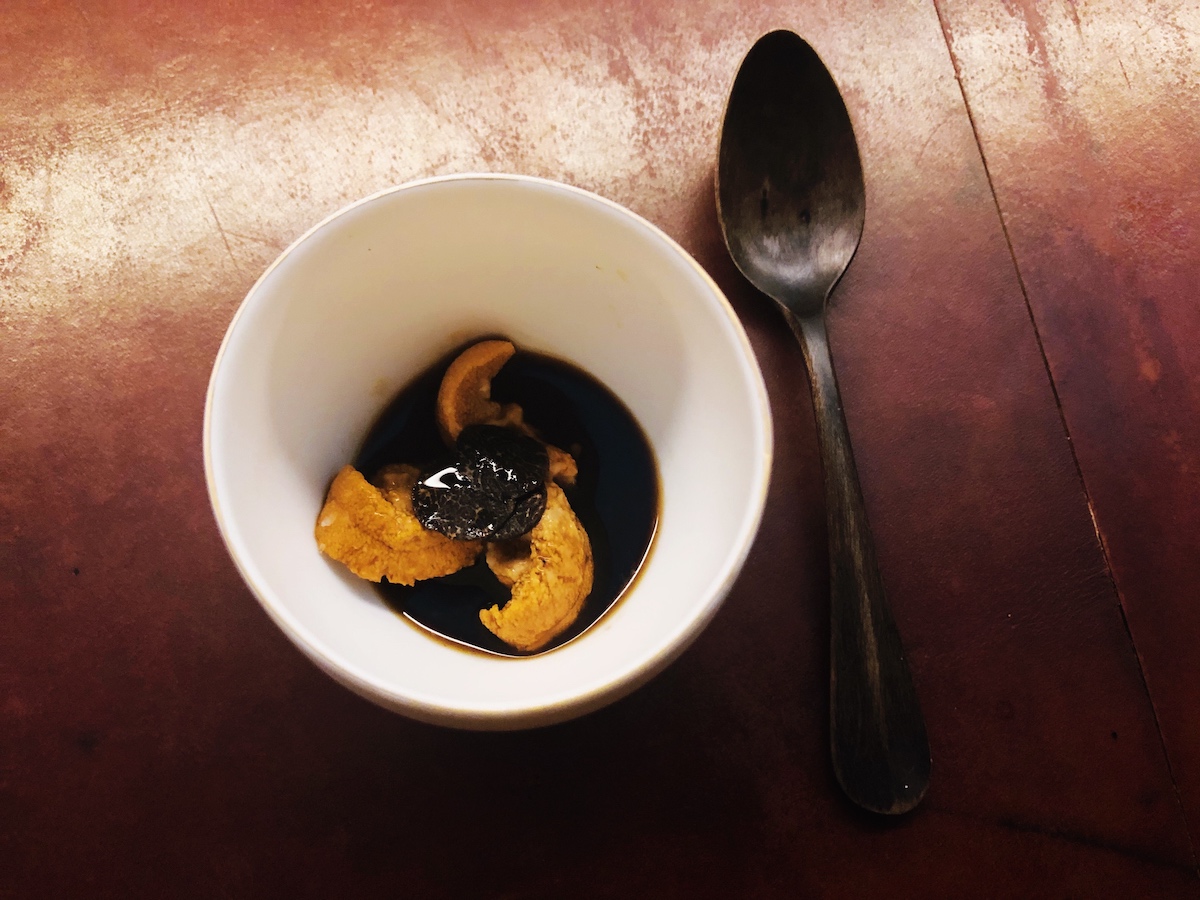 Angel biscuit, roe, roasted chicken drippings.  The dripping acted in place of butter and was wonderful with the bread.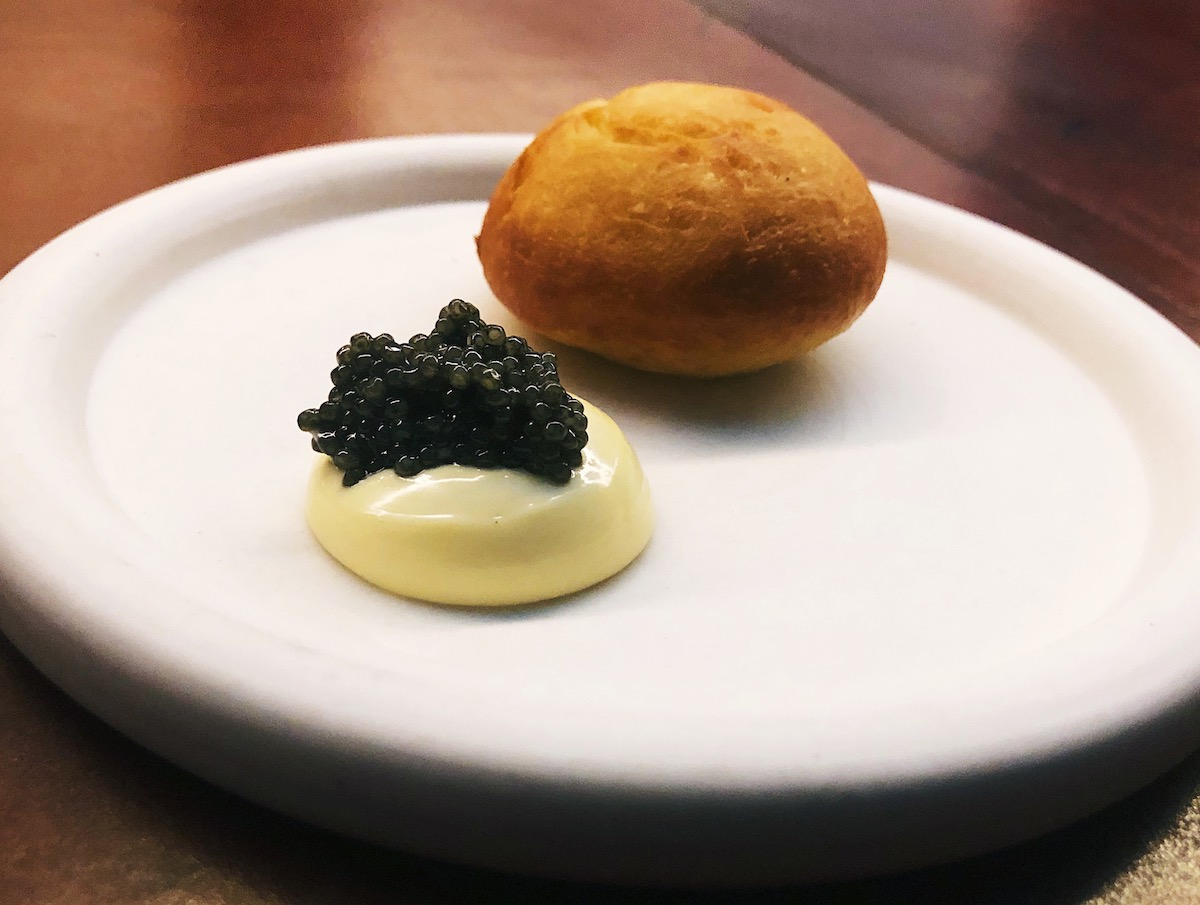 Guava and horseradish with seaberries.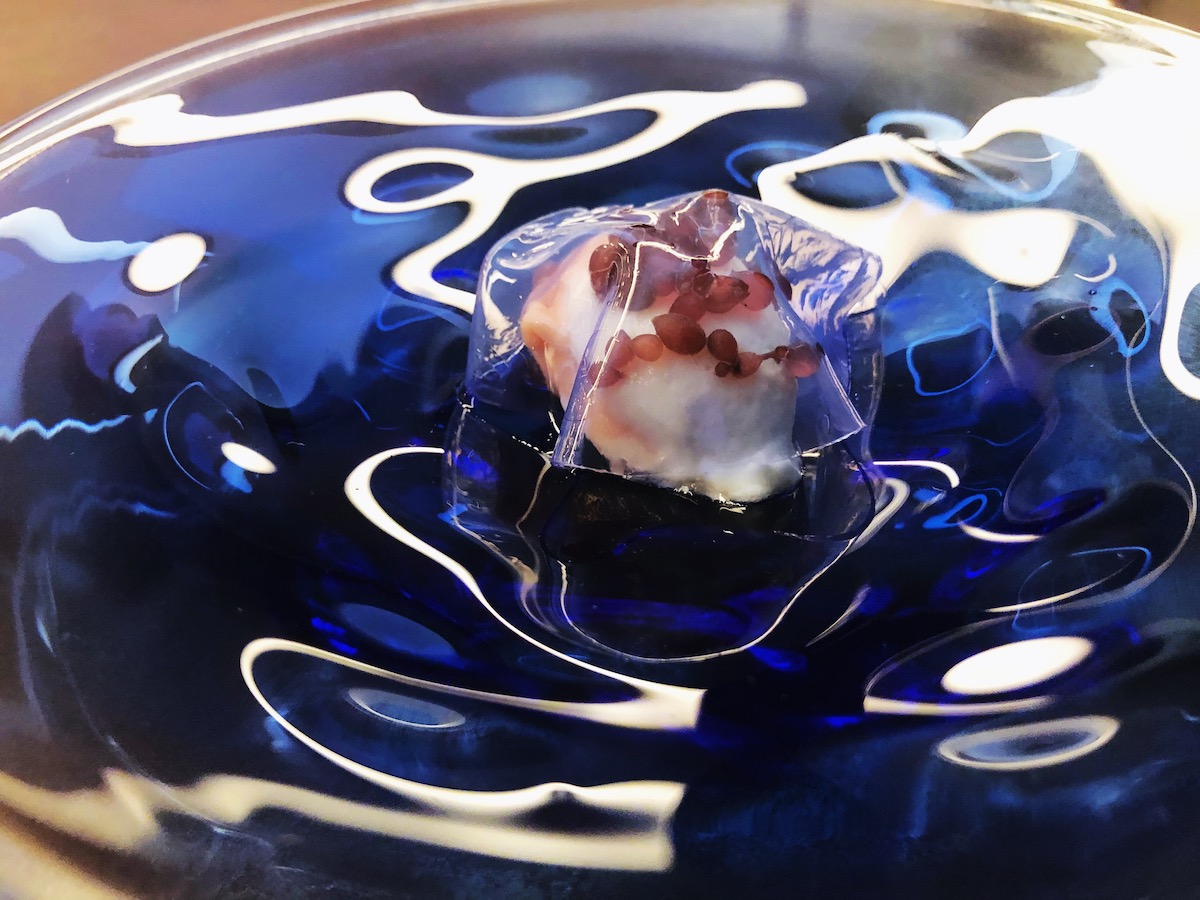 Fatty tuna and country ham.  This was particularly interesting as we were served bowls of whiskey first and told to dip our fingers in the whiskey and rub our hands together until they were warm but do not drink it.  The idea was to have the fragrance of the whiskey combined with the flavor of the country ham and tuna.  Absolutely delicious!  We were told not to drink the whiskey, but I couldn't resist.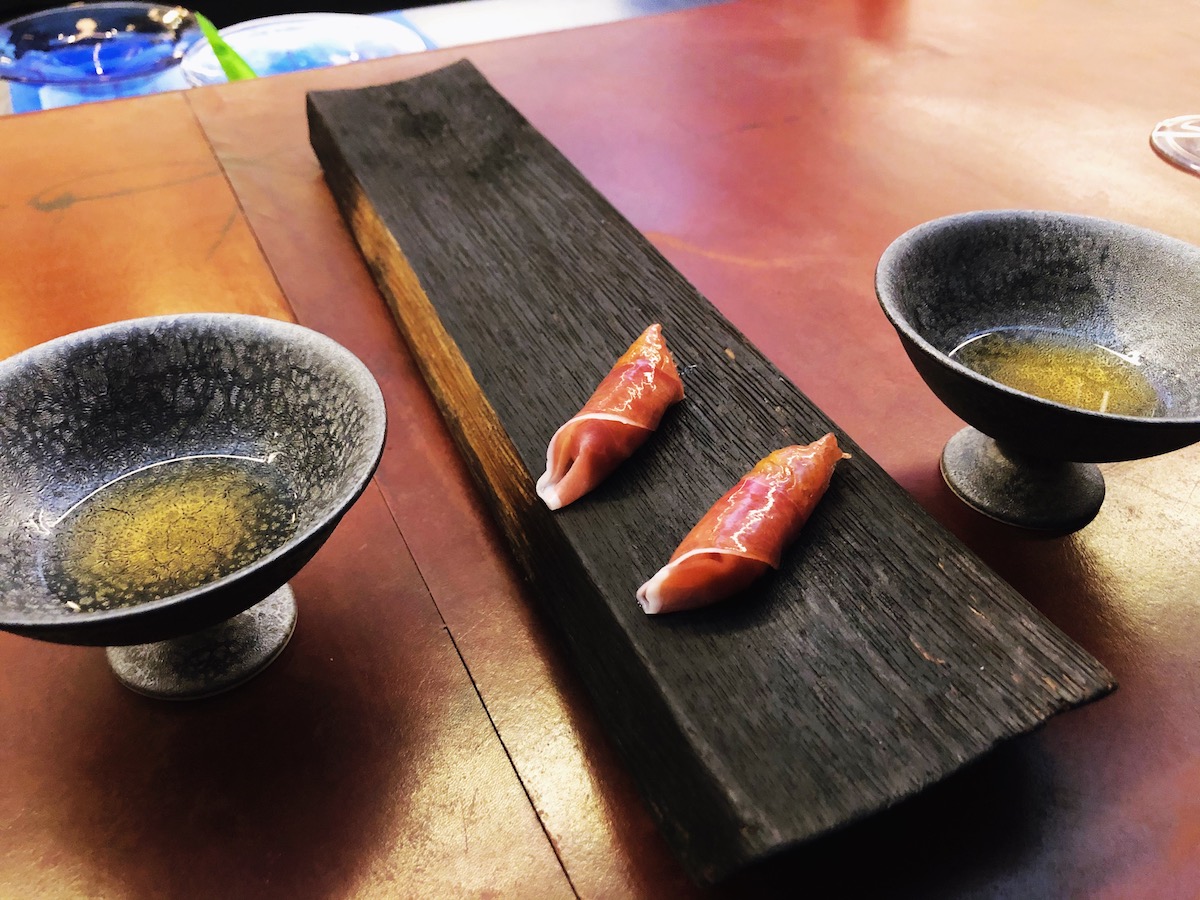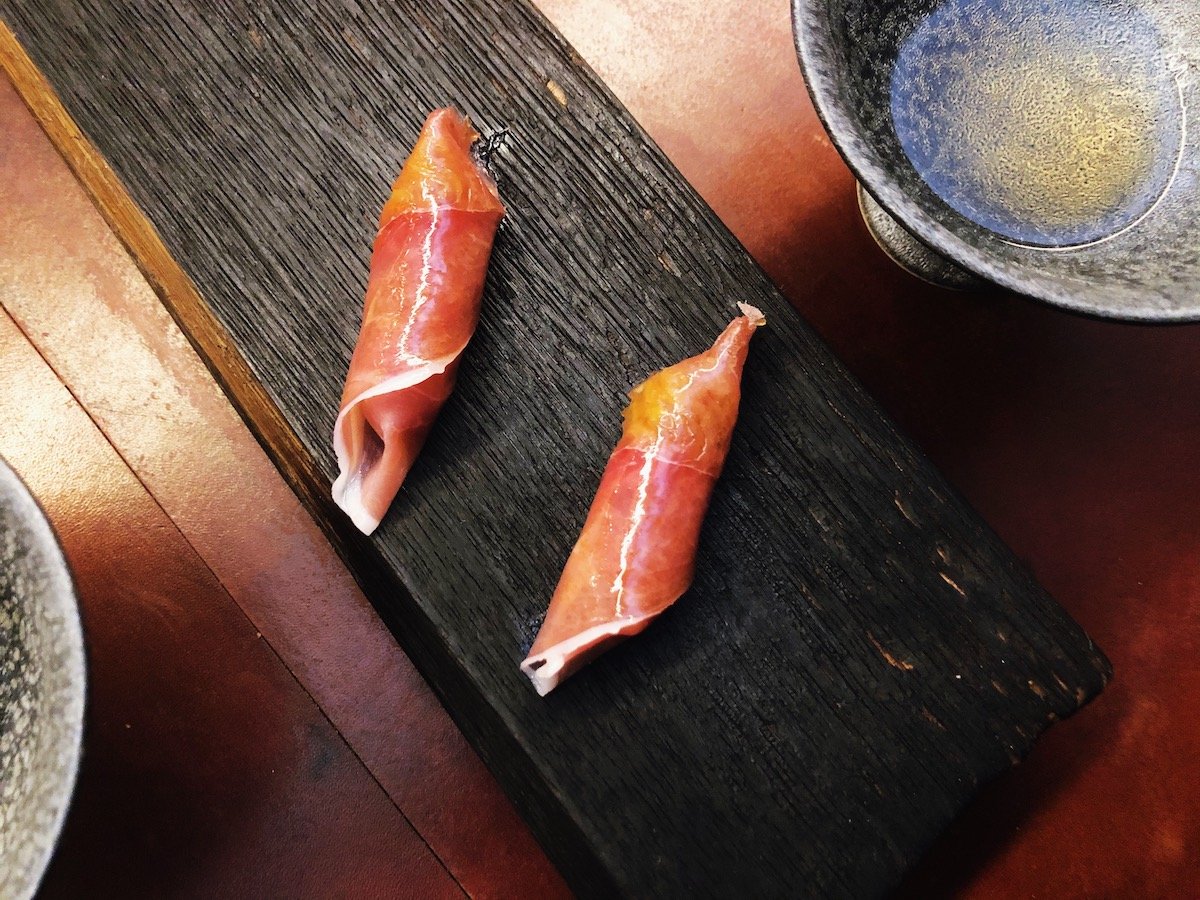 About halfway through the meal we were presented with a couple options for additional dishes.  We chose the savory option which was black truffles and dumplings.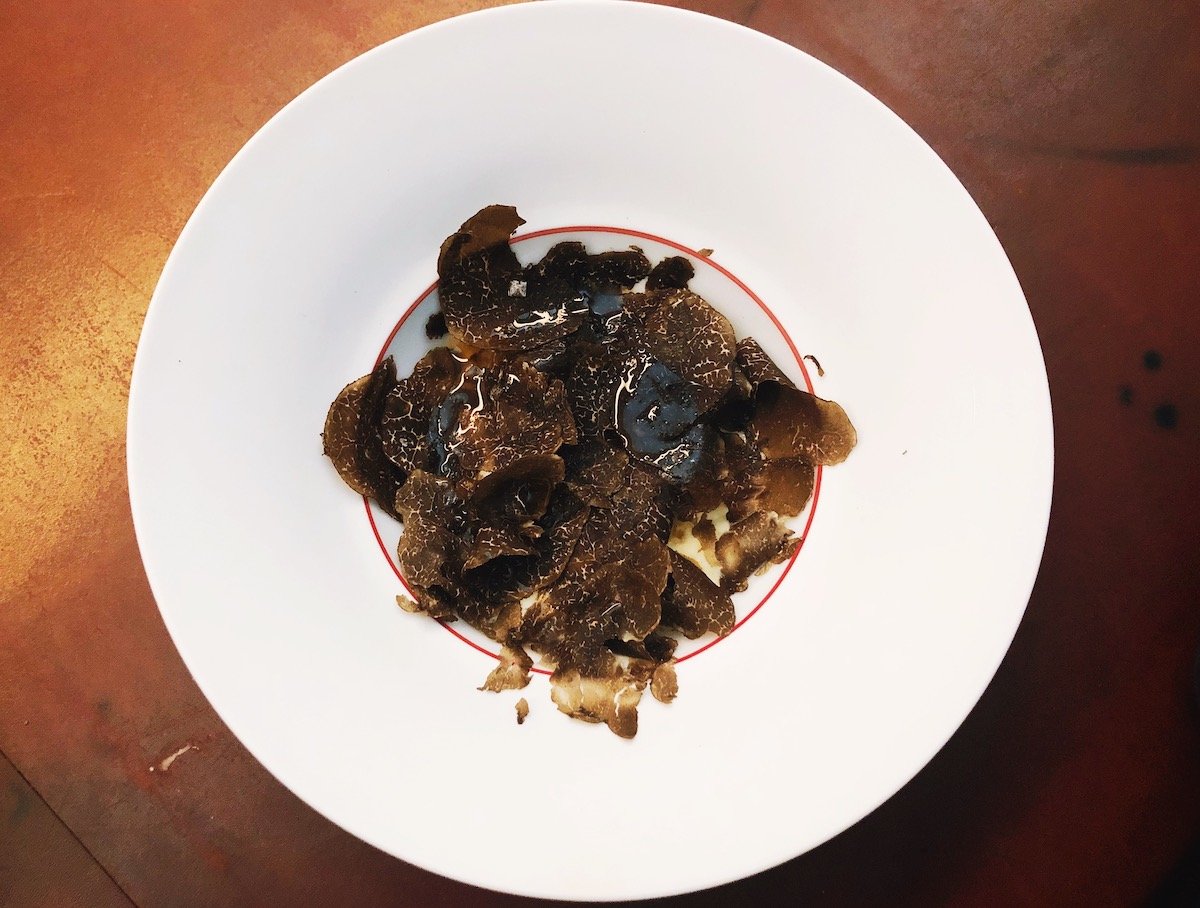 Stone crab, oxidized wine, schmaltz.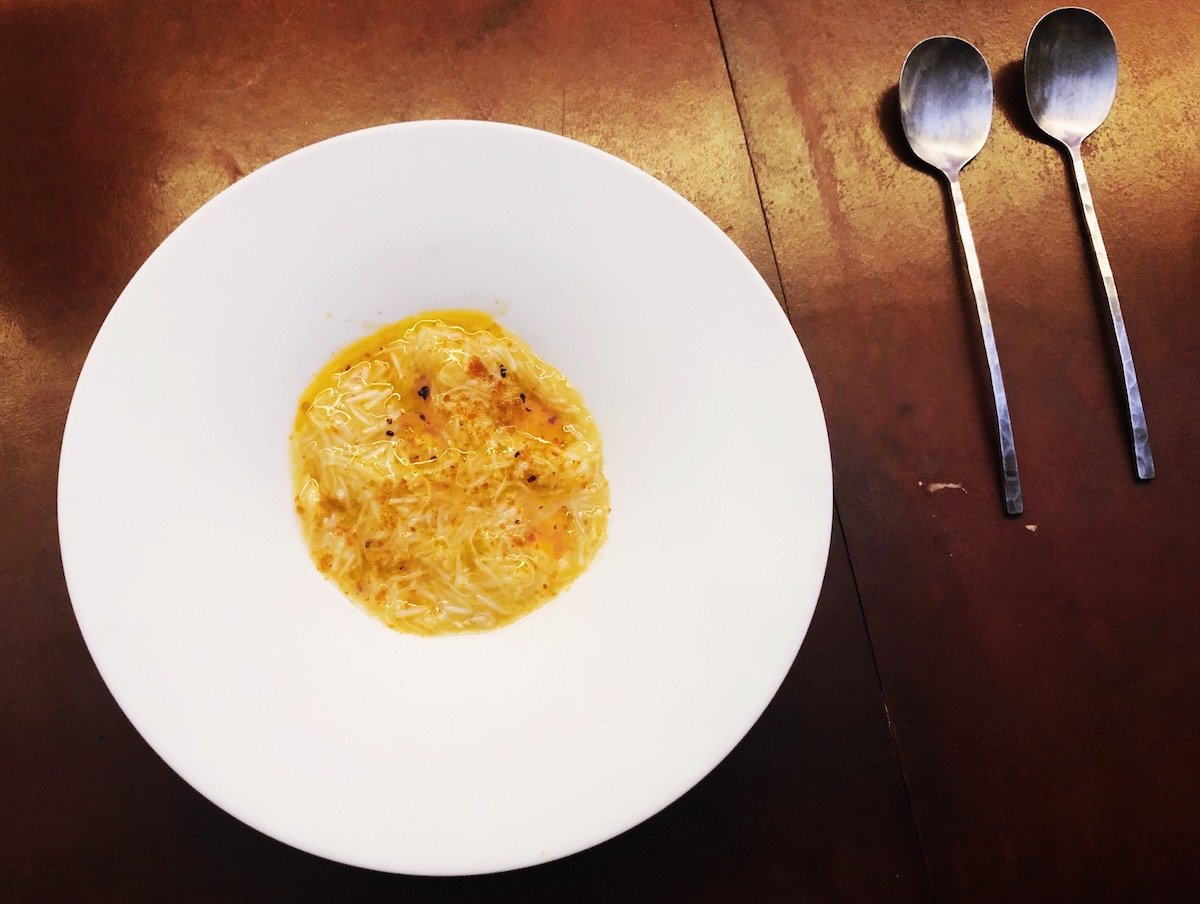 Beef heartbread and dried abalone gravy.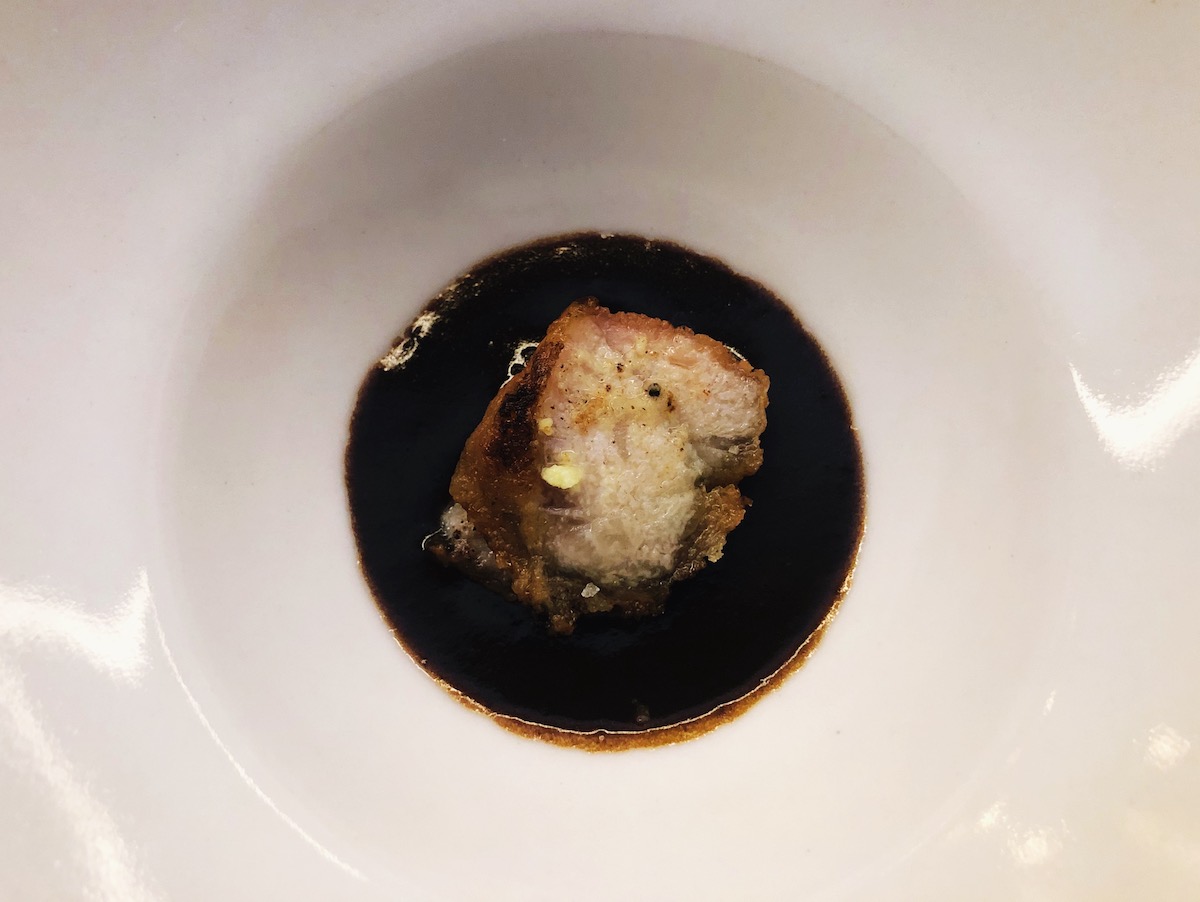 Ceps and chicory.  Ceps are a type of mushroom and this dish included eggs so Stephanie's substitution was Fairytale eggplant and fermented pepper.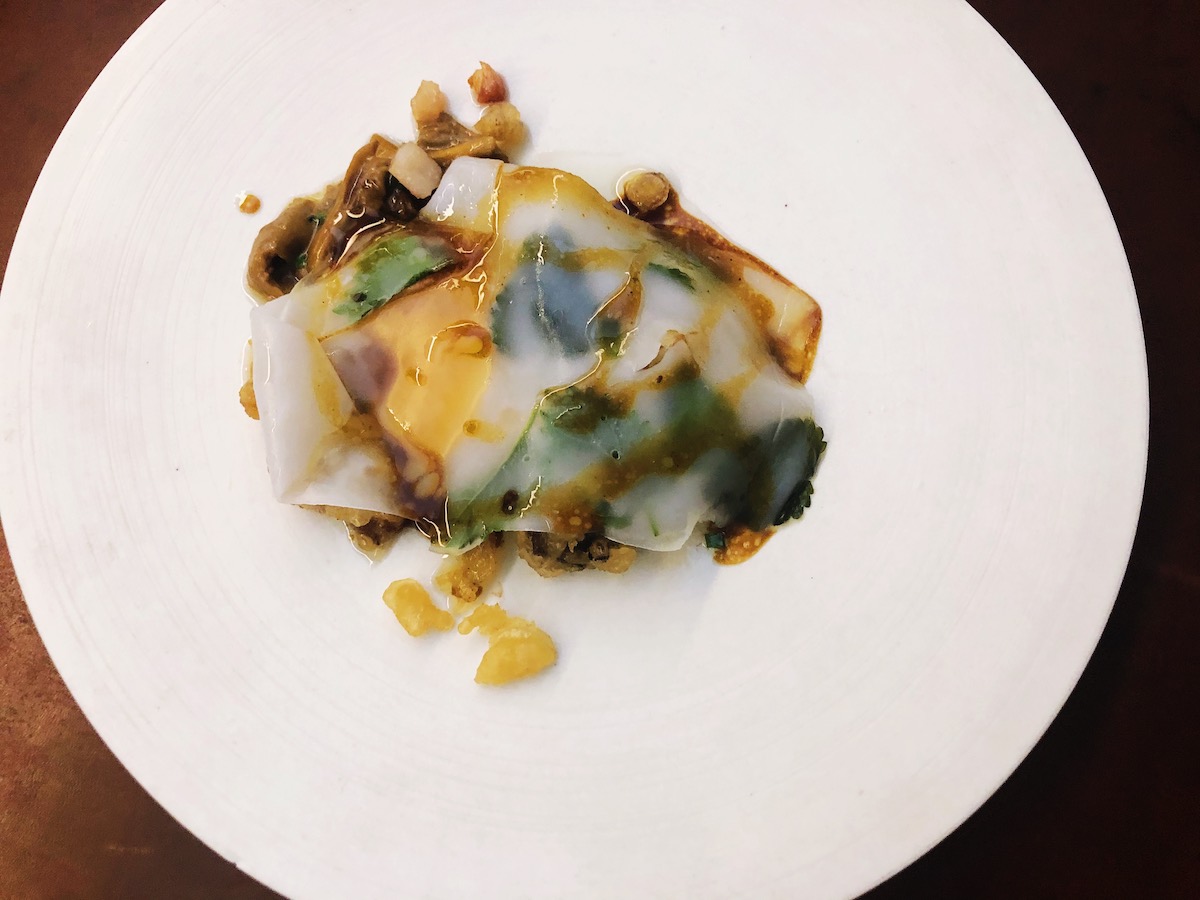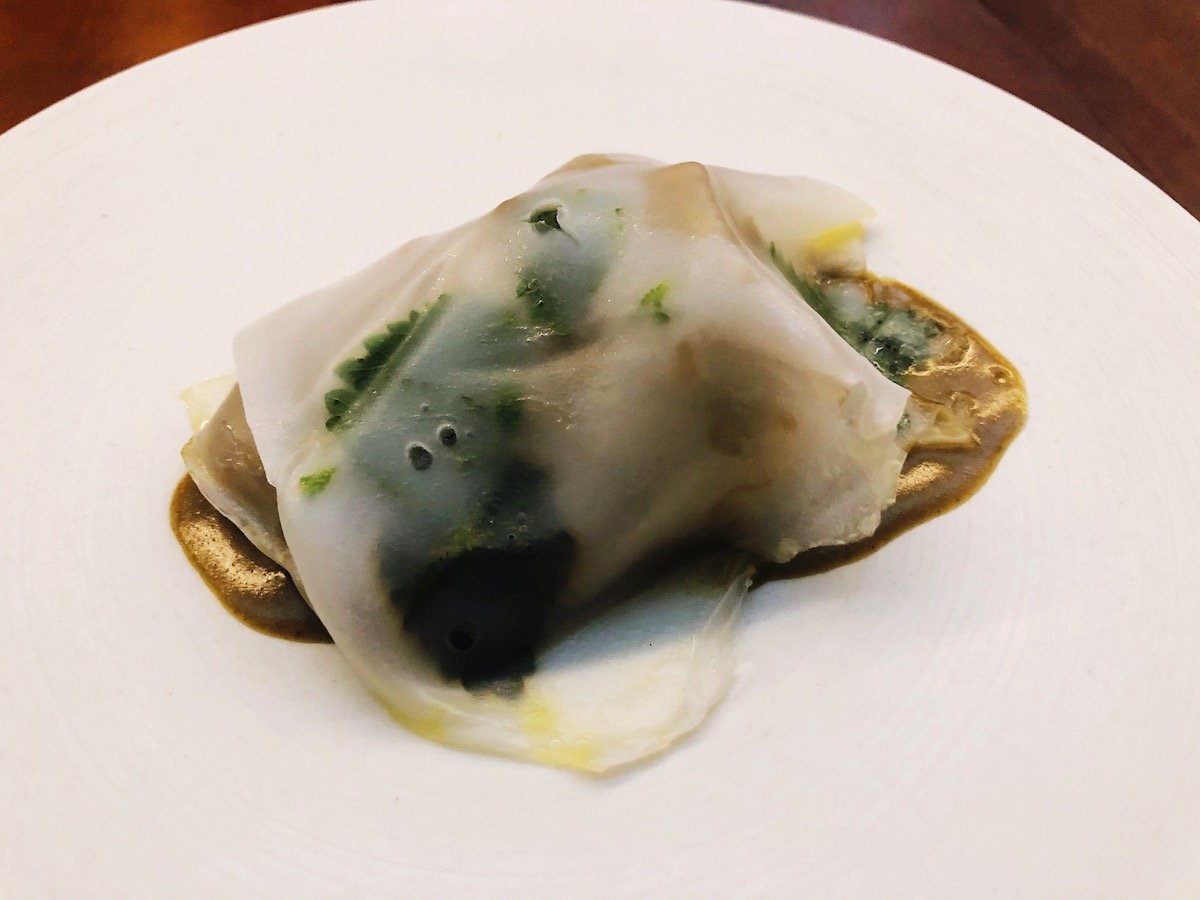 Grilled fat tail sheep.  This was tasty and we were told it was the tail and all the parts, whatever that means.  Each item on the plate had a different texture but we both agreed that while it all was amazing the piece in the center on the right side of this photo was the best on the plate in terms of texture and taste.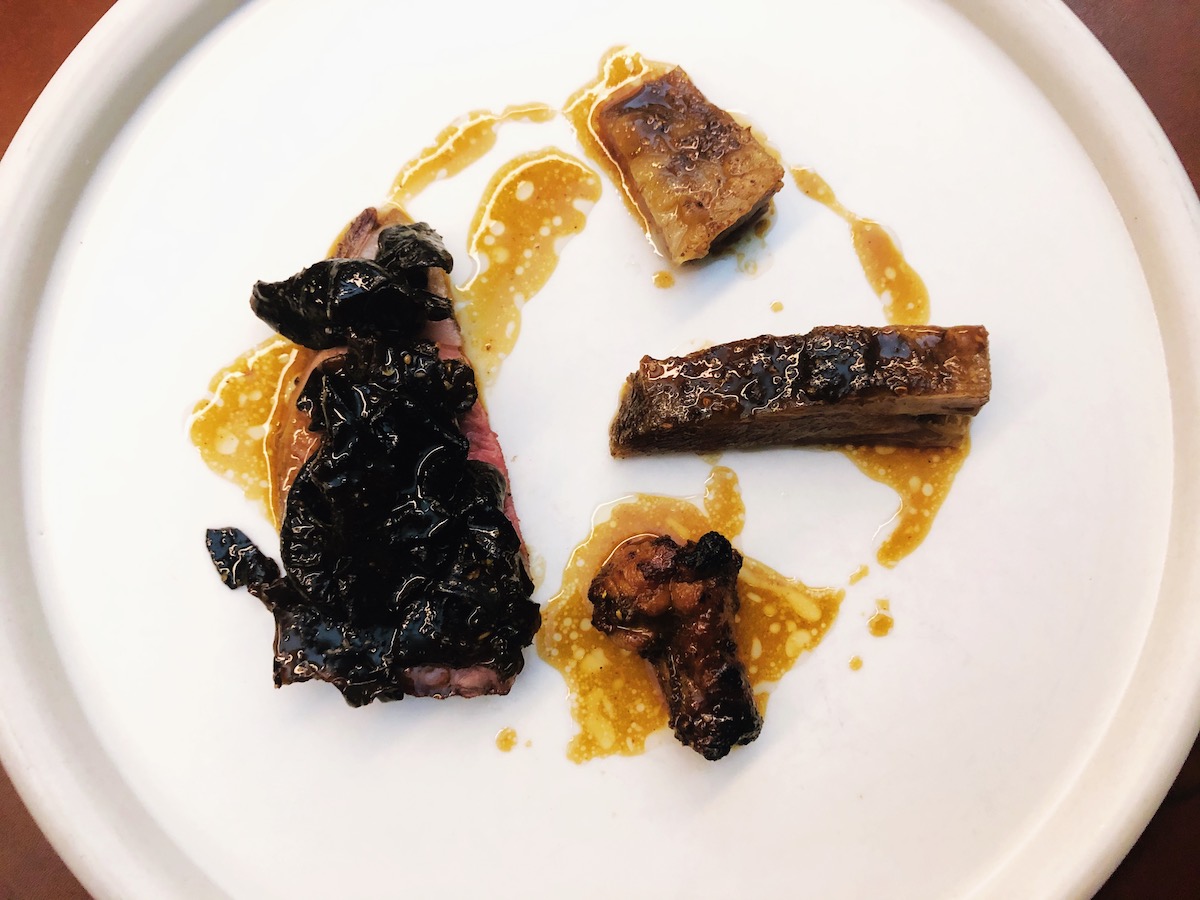 Pig's blood fried pie. Some of these photos can be deceiving. The size of the dish the fried pie was served on is slightly larger than an oreo, though by this time we were feeling full so the bite-size portions were perfect.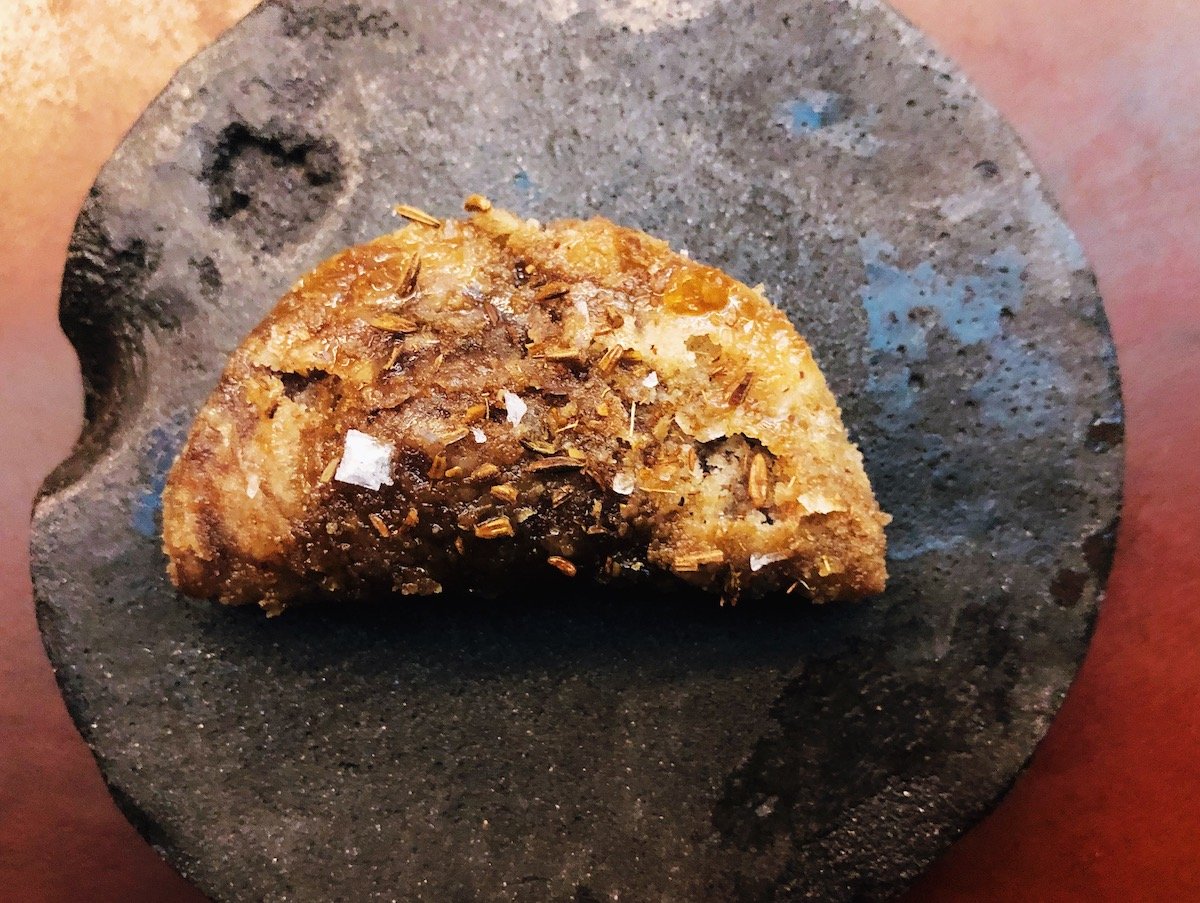 In the days leading up, we wondered if we would be full after the dinner was over because we were just unsure if we would be willing to try everything.  We checked out previous dishes online and were intimidated by some of them.  However, we ate everything and enjoyed almost all of it.  So, by the time dessert came around we were getting quite full.  Here are our desserts.
Frozen marzipan, preserved cherries, winter truffle and walnut, black raspberry, buckwheat.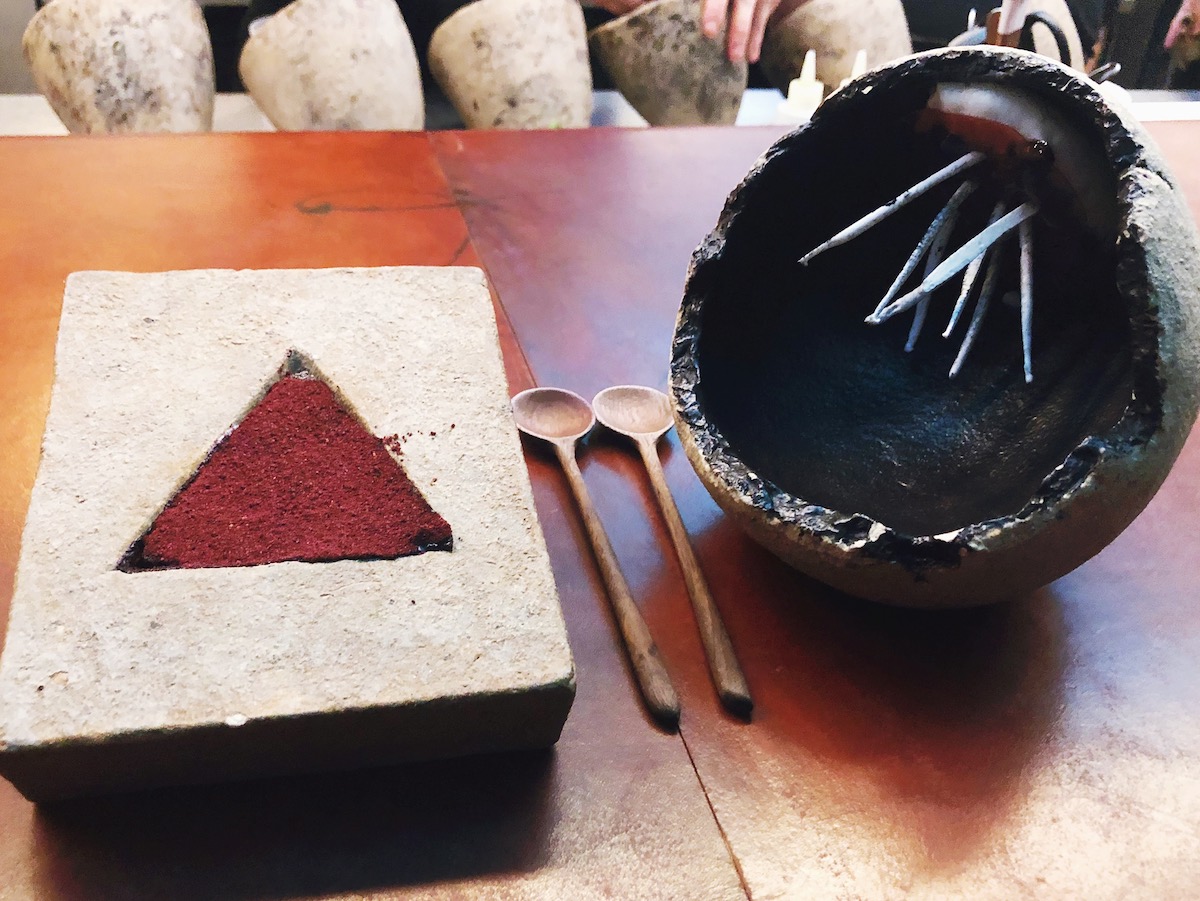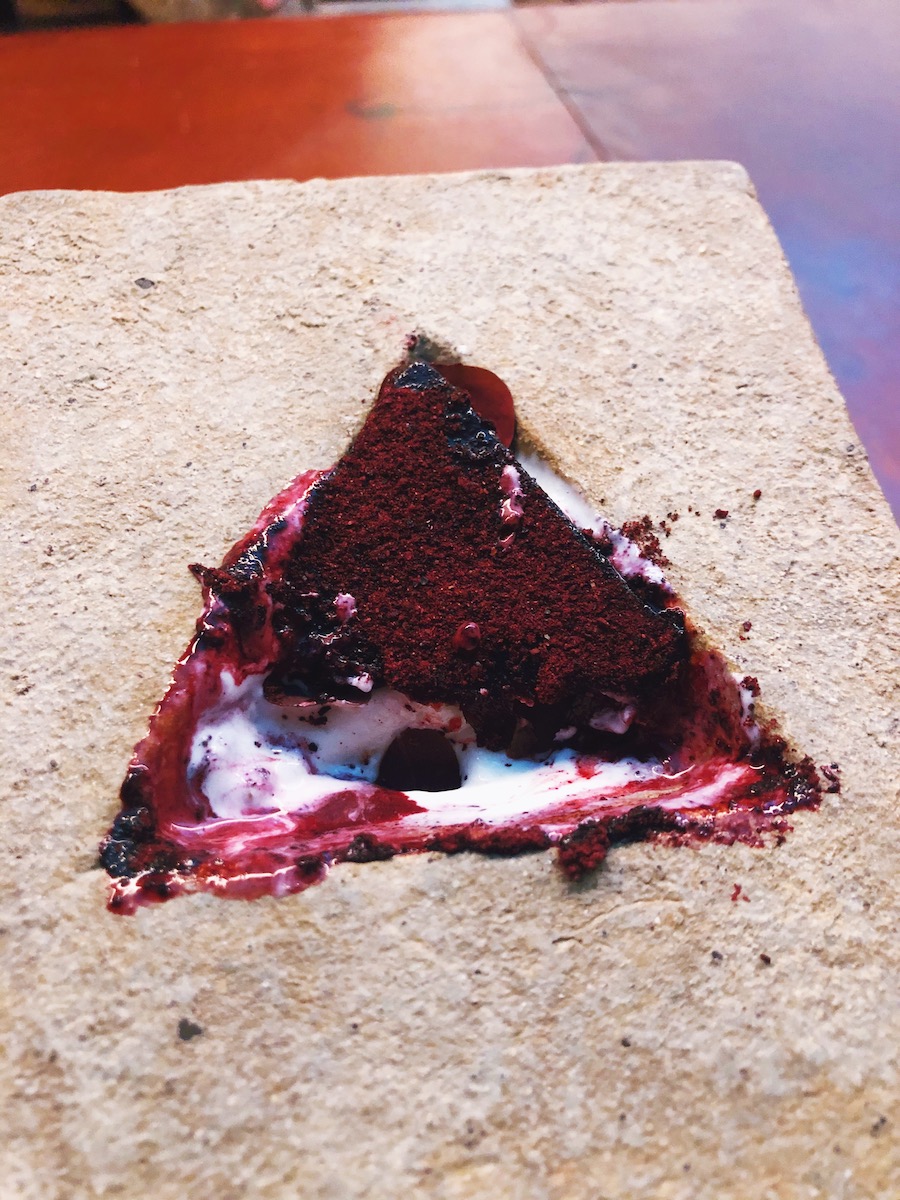 Sweet rice, sake lees, marionberry.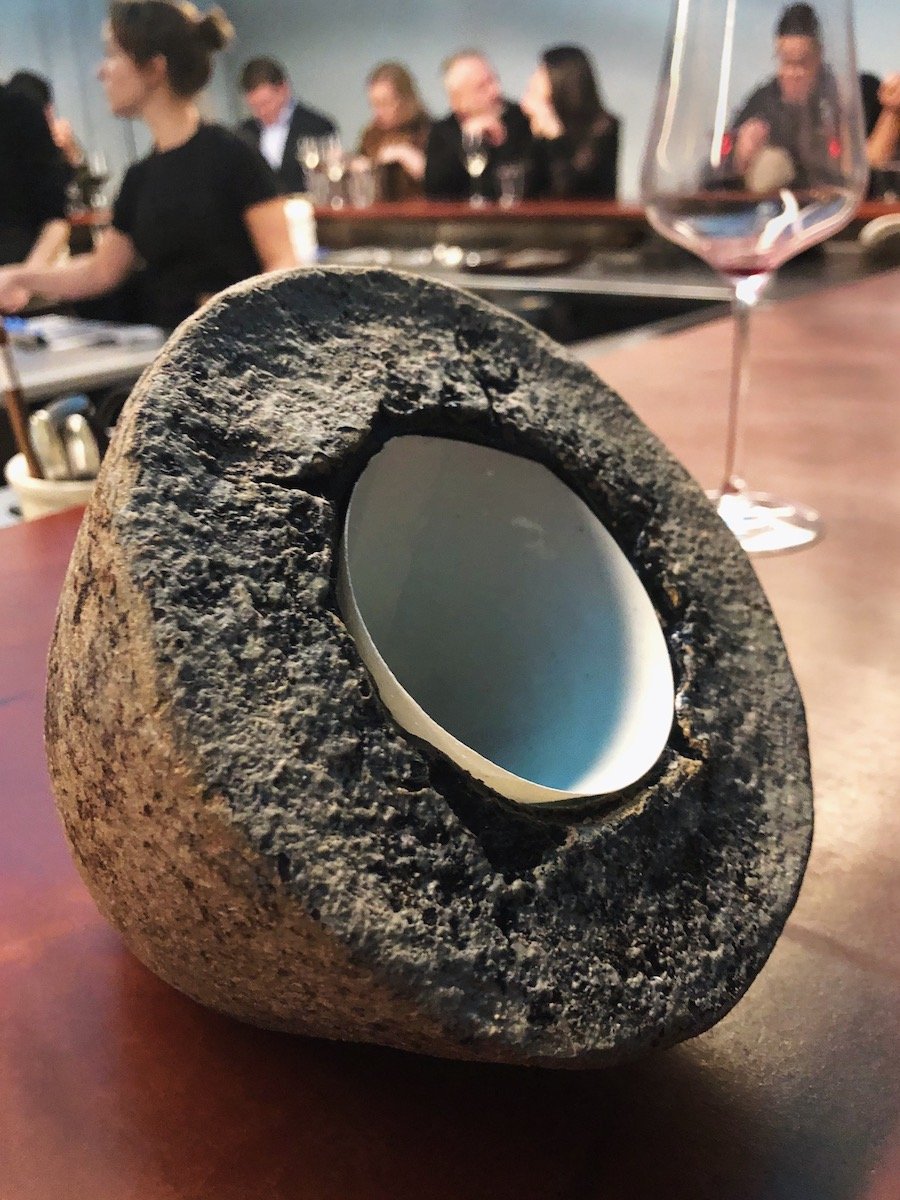 Finally, pork rinds which bear only the slightest resemblance to those you buy in a bag.  Quite good!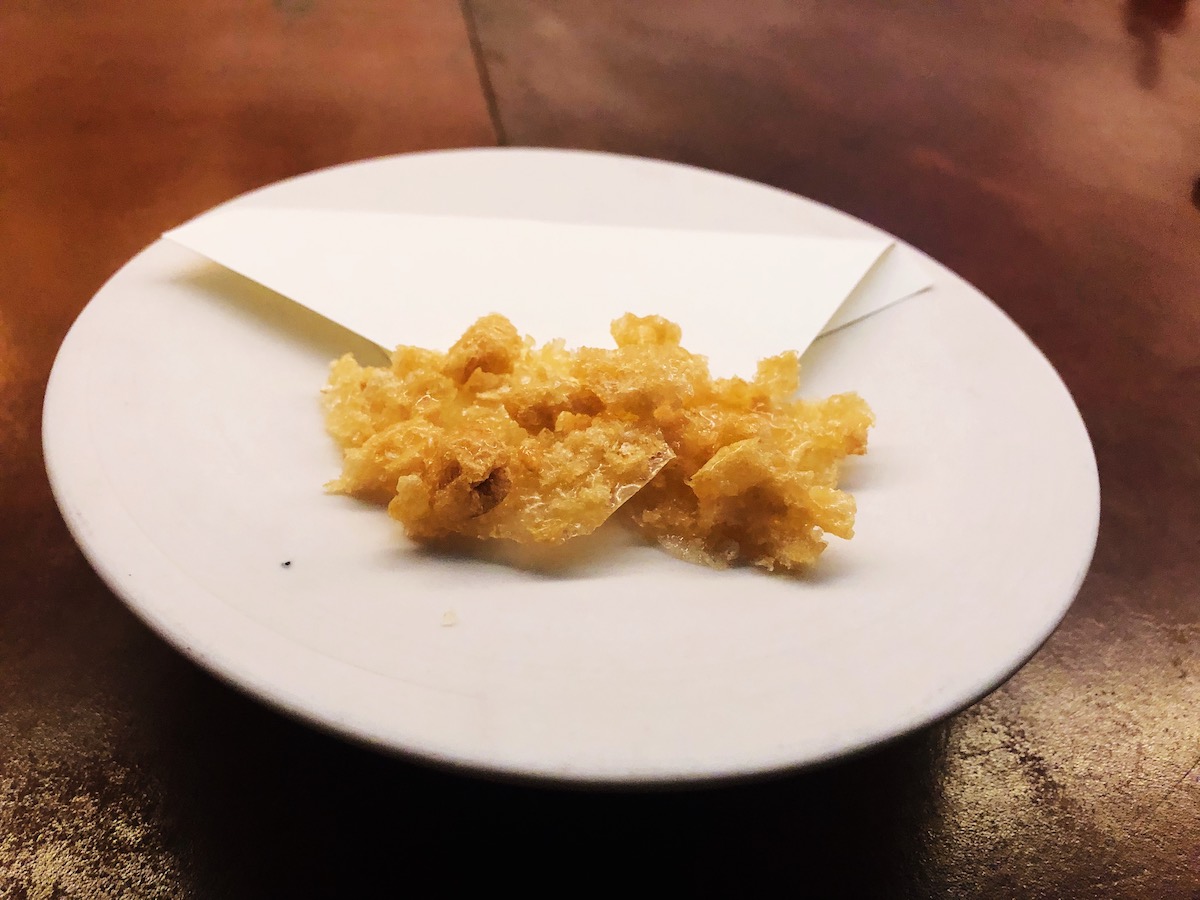 As the meal ended, customers began to drift out but were left with a lack of closure.  The whole meal was a show and all the staff were awesome.  We felt like we should have thanked everyone and there should have been time for applause.  At the end of the meal, we were provided with a nice printout of our customized menus as a keepsake.  The chefs change every couple of years, and we look forward to trying this again in the new iteration.  If you are adventurous when it comes to food and you are willing to try anything, we can't recommend this restaurant enough.  Don't forget to stop into the bathroom before you leave.  It's an experience all on its own.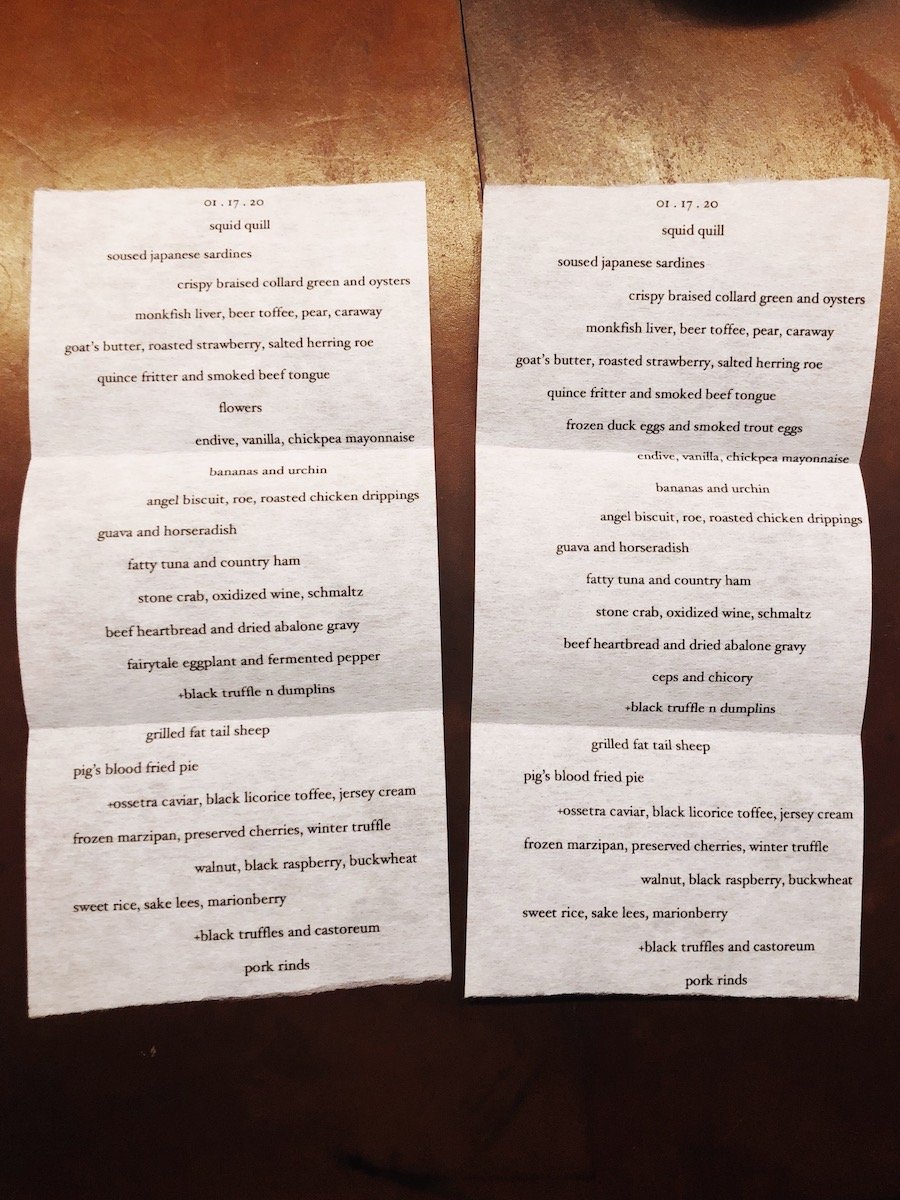 The Catbird Seat is located at 1711 Division Street, Nashville, TN 37203. Follow them on Facebook and Instagram for more info and visit their website to make reservations.