Kick off Transit Month with Music City Star's "Ticket to Ride"
April is Transit Month, and you can take part in it throughout the month, starting with the "Ticket to Ride" event on April 6th when the Music City Star will transport folks from Downtown's Riverfront to Donelson, where they will then walk over to a nearby restaurant to mix and mingle. Councilman Jeff Syracuse will be present to discuss plans for the development of Donelson and public transit in that community, including transit in the Opry area and nearby 130-acre development, which Ryman plans to build over the next ten years or so.
Other Nashville Transit Month Events
Other events throughout the month include taking WeGo, Nashville's public transit bus, to the Downtown or WeHo Art Crawls for free on April 6th; free bus travel training to learn how to use the bus bike racks and learn about the resources offered by WeGo on April 8th; April 11th's Edible Nashville + WeGo Progressive Dinner ($55 all inclusive); free transit to the Farmer's Market Night Market on April 19th; and more. Follow Transit Now Nashville's Facebook page, or visit their website, to purchase tickets and for additional event information.
Are You Up for the Challenge?
From April 27th to May 3rd, take part in the Commuter Challenge with a pledge to make at least one trip to work not driving alone.
If you agree that Nashville needs a vibrant transit system, April is your chance to show it!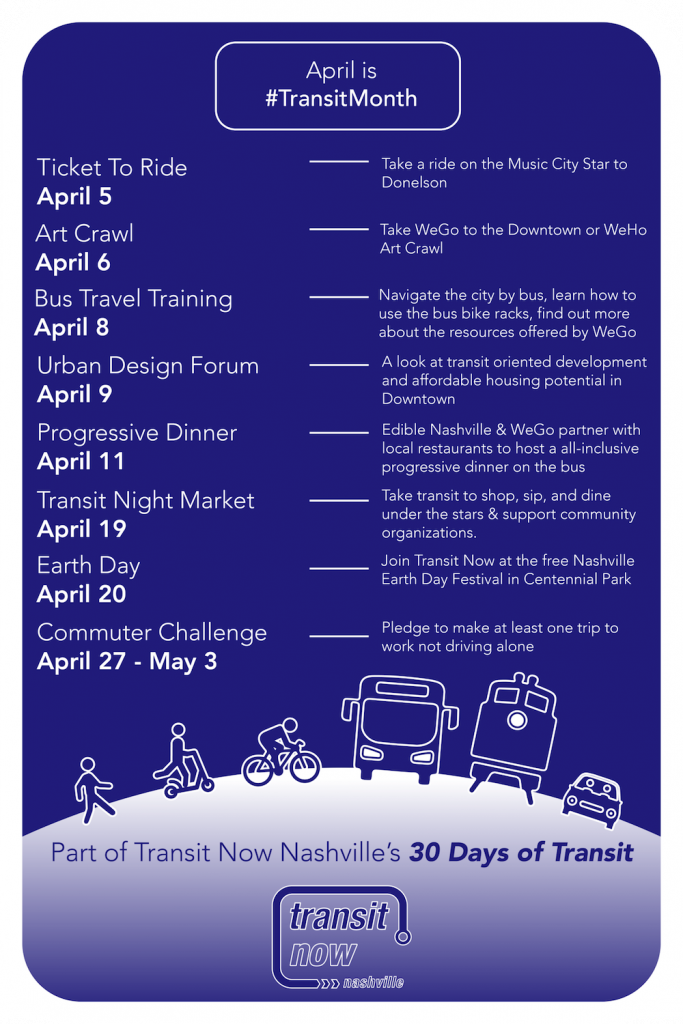 window.dojoRequire(["mojo/signup-forms/Loader"], function(L) { L.start({"baseUrl":"mc.us13.list-manage.com","uuid":"b3560441a030ec3ce9b8bfb77″,"lid":"4f35c52094″,"uniqueMethods":true}) })