Kick off the Fourth at these festivals…
The Thirth of July
Each year, on the 3rd of July, East Nashville closes down North 12th Street between Ordway and Calvin for a huge block party that brings out hundreds of friends and neighbors to listen to great music, eat great food, and drink great beer! Tickets are $30 at the gate and include 4 great bands, access to several great food trucks, and all the Yazoo Beer you can safely consume. Gates open at 4 pm and festival ends at midnight. Bring a photo ID for entry.
Music lineup: The Lonely Owls, Keats, Lynn Taylor and the Barflies, and Elle Macho
Food vendors and beer by: Bao Down, Frisson, G's BBQ, Florinda's Cocina, and Yazoo
A portion of the proceeds benefits local nonprofits doing great work in East Nashville and beyond. Past beneficiaries include Nashville Repertory Theatre, Urban Green Lab, the Adventure Science Center, Martha O'Bryan Center, and more!
More info at thethirth.com.
13th Annual Music City Hot Chicken Festival
Created in 2007, the annual Music City Hot Chicken Festival brings together the local community and visitors to celebrate the uniquely-Nashville dish, Hot Chicken.
The FREE event is held in East Park at 700 Woodland Street on July 4th each year. The Fire Truck Parade begins at 10:30 am followed by free Hot Chicken samples to the first 500 people in line. Festival gates open at 11 am. Visitors can enjoy Hot Chicken from Nashville's best Hot Chicken establishments, cold beer from Yazoo and other delicious edibles from local vendors.
Live music from local bands keeps the "Nashville" vibe going all day long and visitors can look on while five teams try their hand at cooking up their version of Hot Chicken in the Amateur Cooking Competition.
The event ends at 3 pm, when visitors can make their way downtown for the annual fireworks display.
Please note the following points for the Festival:
Admission is FREE to the Music City Hot Chicken Festival
Attendees are discouraged from bringing pets to the event
The Festival is all-ages, however, a valid ID is required for all beer sales
No outside coolers can be brought into the Festival grounds
No tents can be brought into Festival grounds
Restrooms are located inside the East Park Community Center
Free Hot Chicken samples are given to the first 500 guests, but the line starts forming well before 11 am, so plan accordingly
While it is indeed the Hot Chicken Festival, there are other edible options on site
While many vendors do accept credit cards, some do not so there is an ATM available
Souvenirs are available for purchase, yet many items are limited so don't wait until the end to purchase yours!
The Hot Chicken Festival is a "Rain or Shine" event
More info at hot-chicken.com/festival.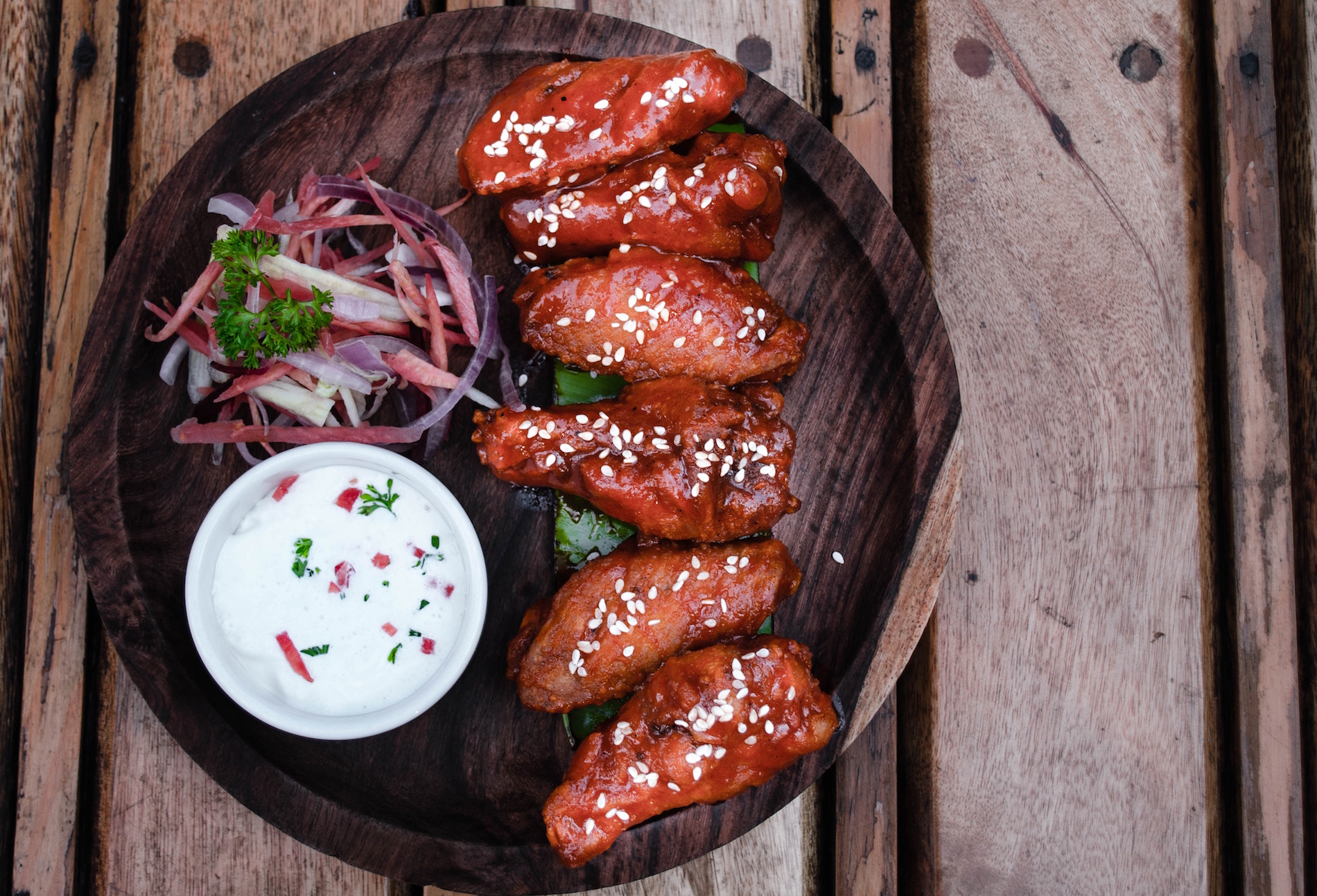 If burning your mouth isn't your thing, maybe burning calories is…
Music City Four on the 4th
Kick off your 4th of July celebration in downtown Nashville with the Music City July 4th – 4 Mile Run/Walk. This is a great way to get in a 4 Mile Run/Walk before the BBQ's and fireworks ensue your day! You'll have a great run/walk passing the scenic views of the ever-changing/growing downtown Nashville, TN streets! Get those patriotic costumes ready and sign up early to save!
After the race check out the family fun zone with inflatables and the vendors that will be in the event area! Fun for everyone!
Every participant will receive a commemorative medal & athletic tank top!
More info at runsignup.com/Race/TN/Nashville/MusicCityFouronthe4th.
Andrews Cadillac Firecracker 5K/10K
Now in its 18th year, the Andrews Cadillac Firecracker 5K/10K takes runners on a road loop around the Maryland Farms area in Brentwood, beginning at the Maryland Farms Y. 10K runners will circle the loop twice.
In addition to the 5K/10K, there will be a Kids Fun Run for children ages 12 and under immediately before the main race. Please note: Children in the Fun Zone must be accompanied by an adult.
We will also be offering on-site child care, where your child can stay while you race! Please bring a photo ID in order to drop your kids in this area.
Registration and more info at ymcamidtn.org/events/firecracker-2018.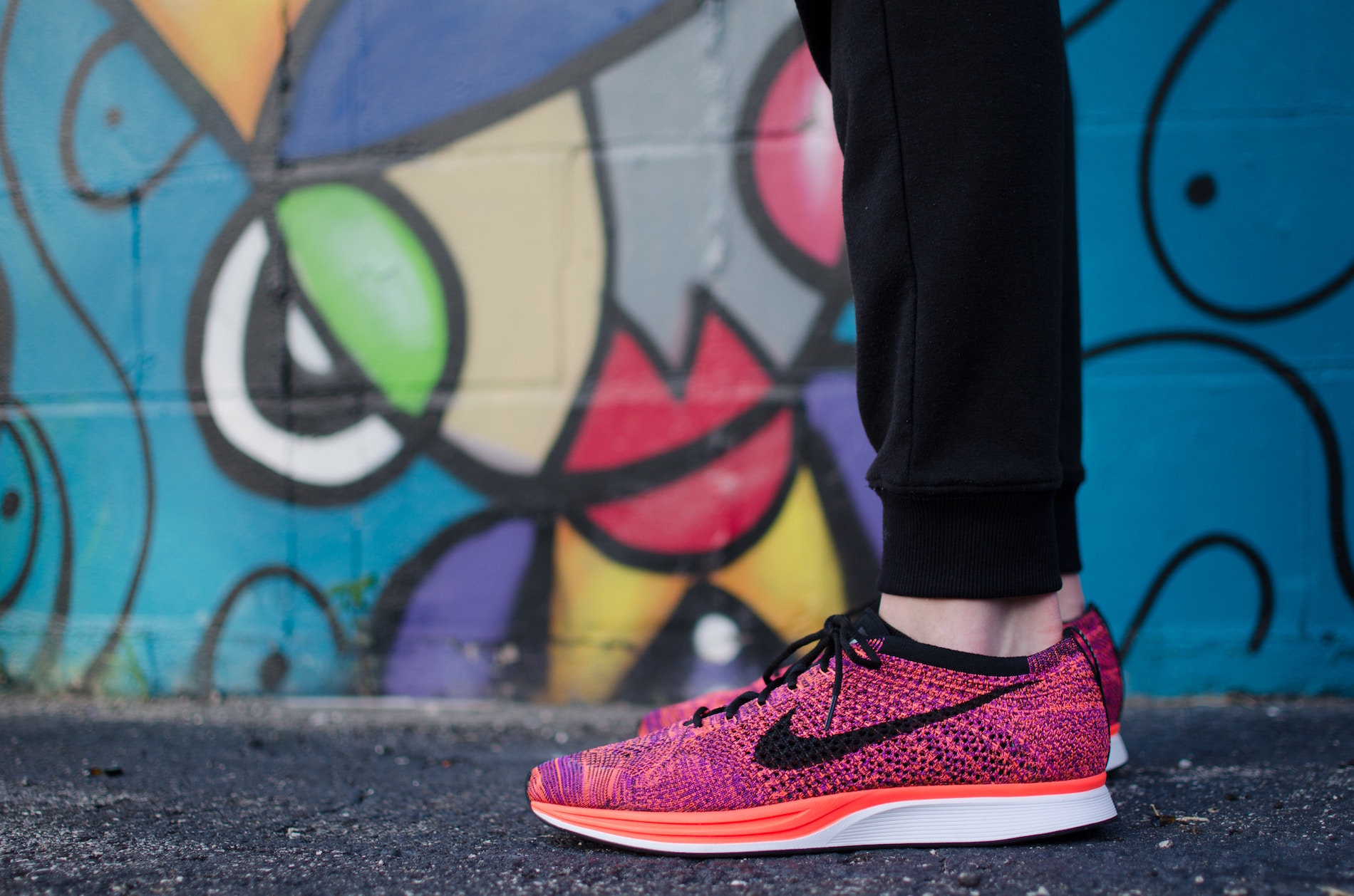 Take me out to the ballgame…
Independence Day with the Nashville Sounds
For the first time in First Tennessee Park history, the Sounds will play at home on the fourth of July. The team has not played a home game on July 4th since 2011 at Greer Stadium. They will play against Iowa at 7:05 p.m.
The Sounds are rolling out a player-inspired t-shirt collection every Wednesday this season, with July 4th featuring pitcher Bobby Wahl. The first 2,000 fans to this game will receive a special "Bobby Give 'Em The Heater" t-shirt.
There will also be an Independence Day fireworks celebration presented by the Nashville International Airport.
Get your tickets here.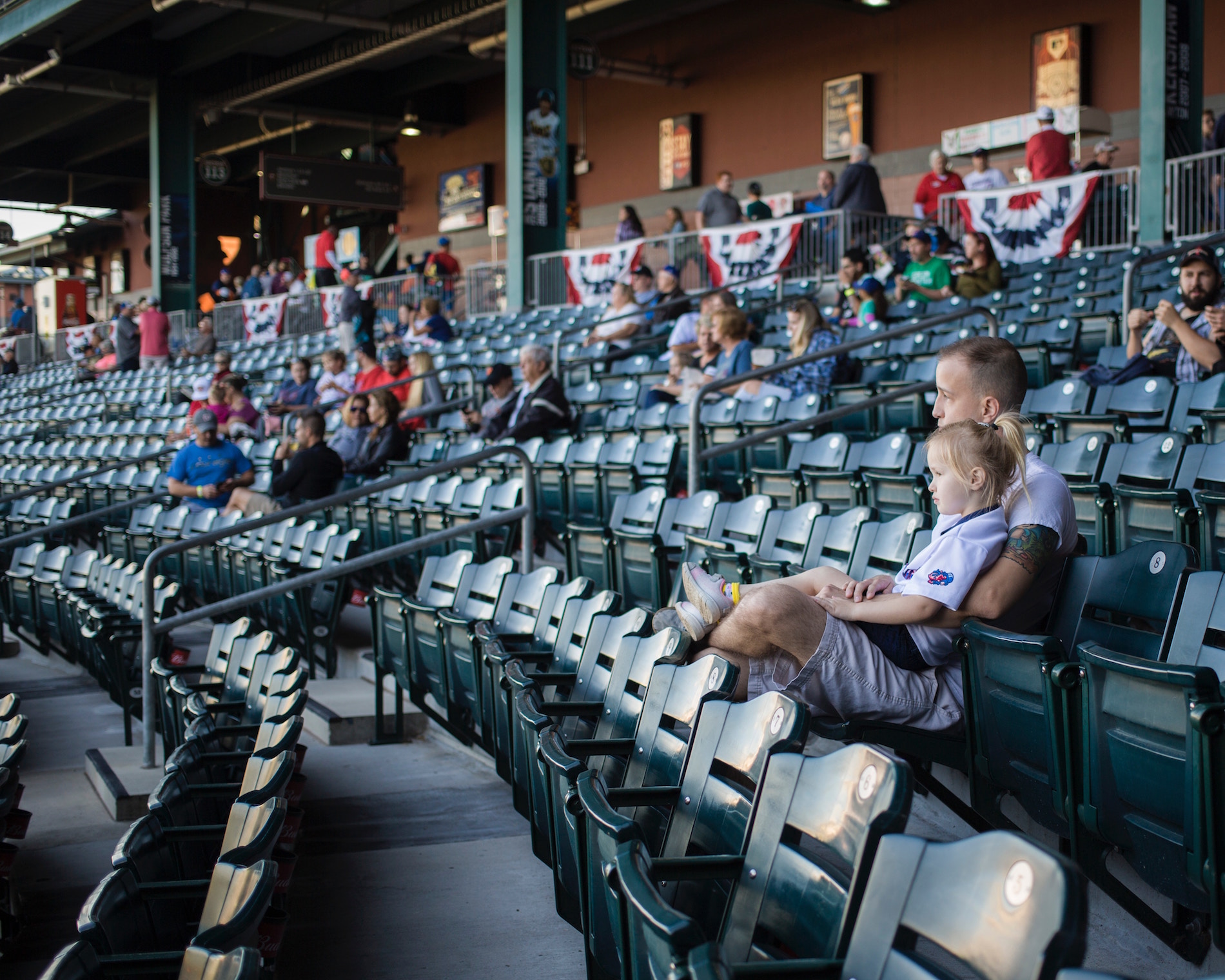 Celebrate with music and fireworks in Music City…
Let Freedom Ring
From noon until 10 pm, Downtown Nashville will be the PLACE to be for family fun, fireworks, and free live music!  This year's lineup includes: Lady Antebellum, Chris Janson, Lucie Silvas, Shannon Sanders, and the Nashville Symphony.  In addition, a DJ will be spinning your favorite tunes at Music City Walk of Fame Park from 12-4pm. There will be a Family FUN Zone with activities that include water slides, climbing walls, and face painting. This event is FREE to attend and open to the public. 
More info here!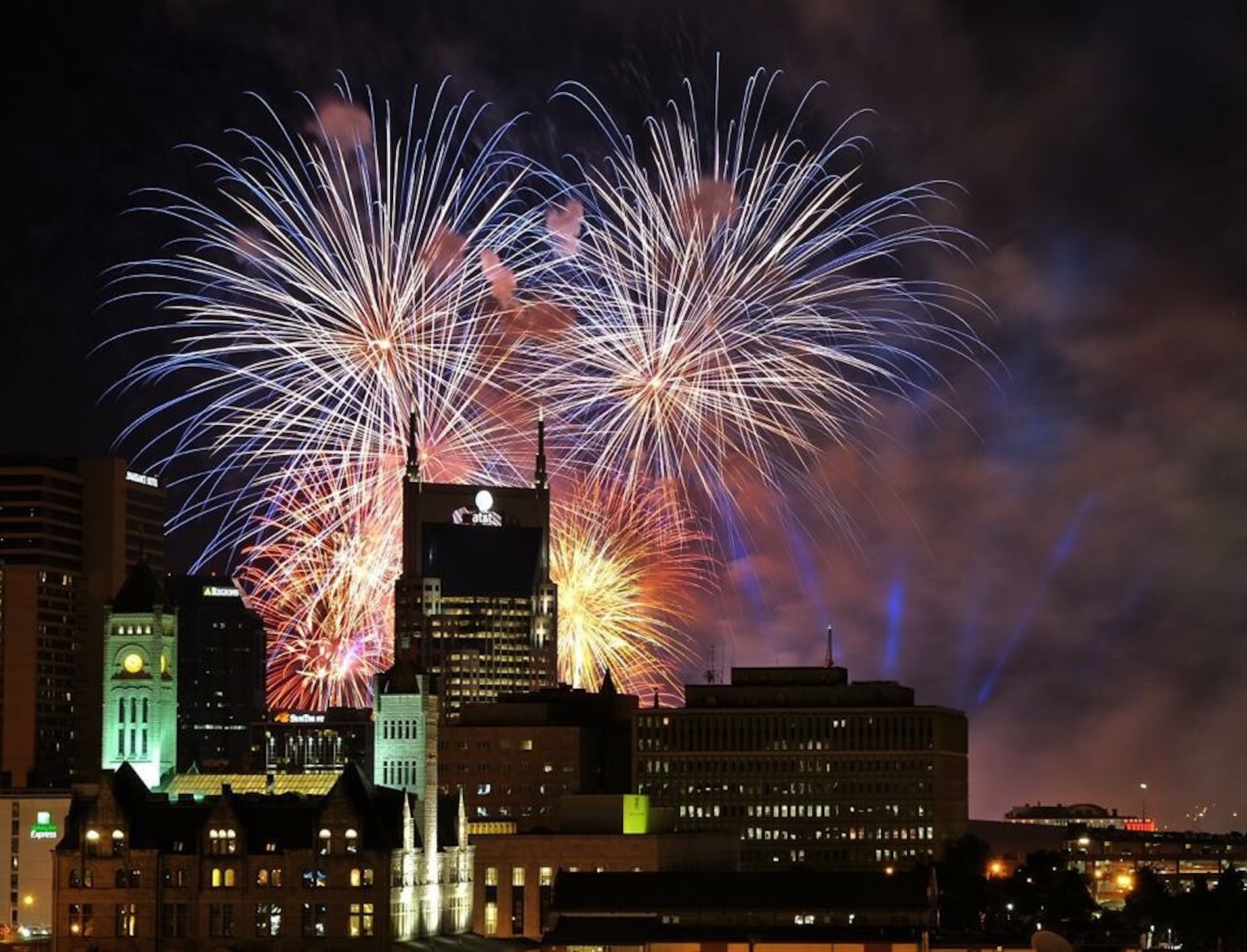 Take an Independence Day river cruise…
BYOB on the Pontoon Saloon
Pontoon Saloon hosts a four-hour river cruise from Blue Moon Bar and Grill to downtown for holiday festivities. It's a bring your own beer cruise where you can enjoy the firework show plus some live music from Let Freedom Sing. The saloon will provide music, appetizers, coolers, ice and an amazing view. Call 615-601-1464 or visit pontoonsaloontn.com to book a reservation starting at $99.
Get a rooftop view of the fireworks…
Celebrate 4th of July at any of these Nashville Rooftops:
Click on any of the above rooftop venues for more information about their July 4th celebrations!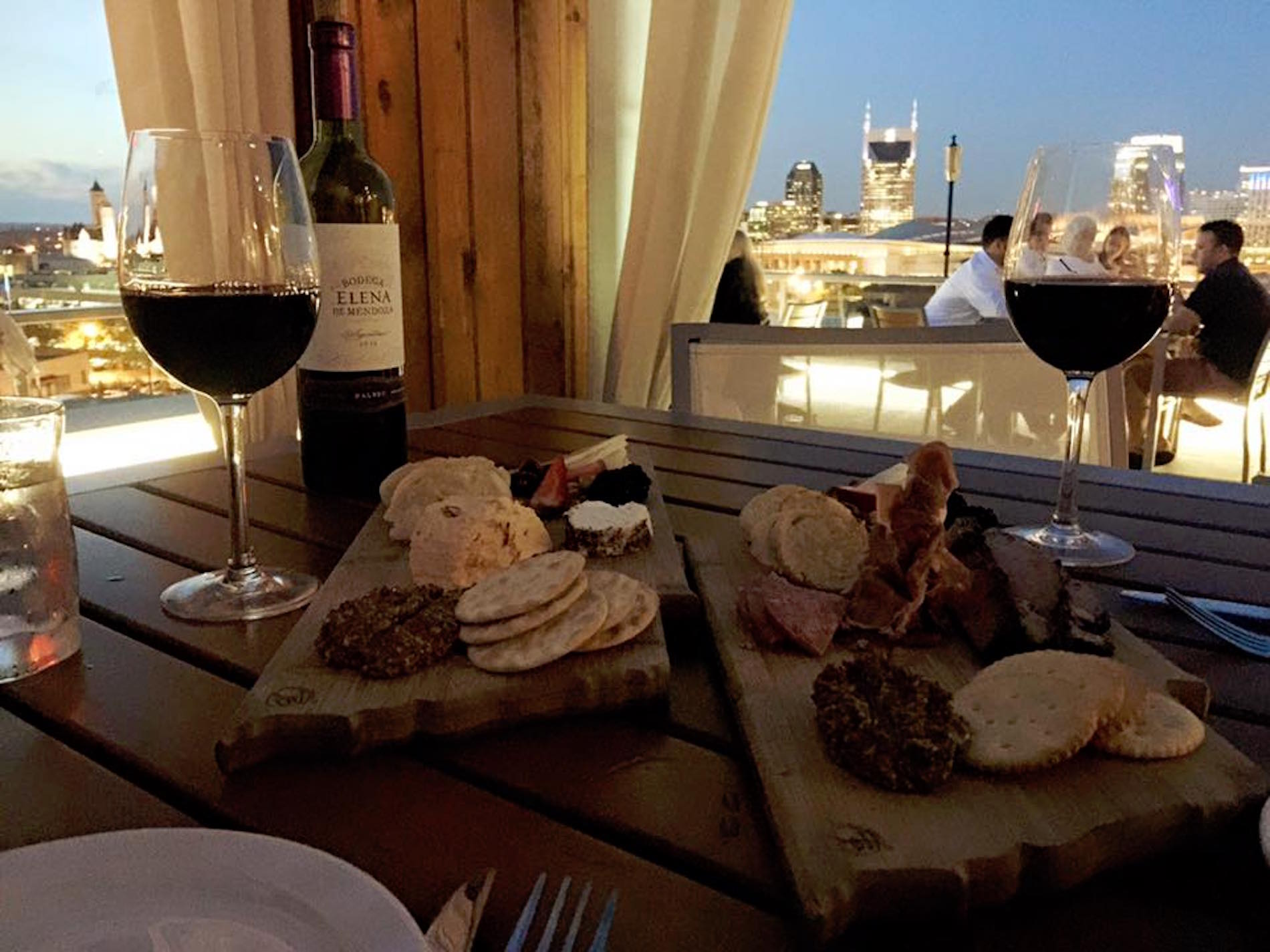 Cool off at the waterpark and enjoy fireworks from the beach…
Fireworks at Nashville Shores
Tuesday, July 3, 2018
Nashville Shores fireworks are like two shows in one with incredible explosions in the sky and the beautiful colors reflected on Percy Priest Lake. The fireworks will start at dusk (approximately 8:45). Fireworks are included with a season pass or that day's waterpark admission. There will also be a beach concert and DJ Dance Party leading up to the fireworks. Waterpark hours on July 3 are from 10 am to 8 pm. When the attractions close at 8 pm, individuals will be permitted to stay on the beach, patio areas and near the lagoon pool to enjoy the fireworks. Concessions will also remain open. More info here.
Nashville Shores Hot Dog Eating Contest
Wednesday, July 4, 2018
If you miss the Nashville Shores fireworks on the 3rd, you'll have another chance to celebrate 'Merica on the 4th with the Nashville Shores Hot Dot Eating Contest. Do you have what it takes? Contest begins at 1 pm on the Lighthouse Beach Stage. To compete, you must register at the park on July 4. Winner receives 4 one-day 2018 admission tickets to Nashville Shores. Number of contestants is limited. More info here.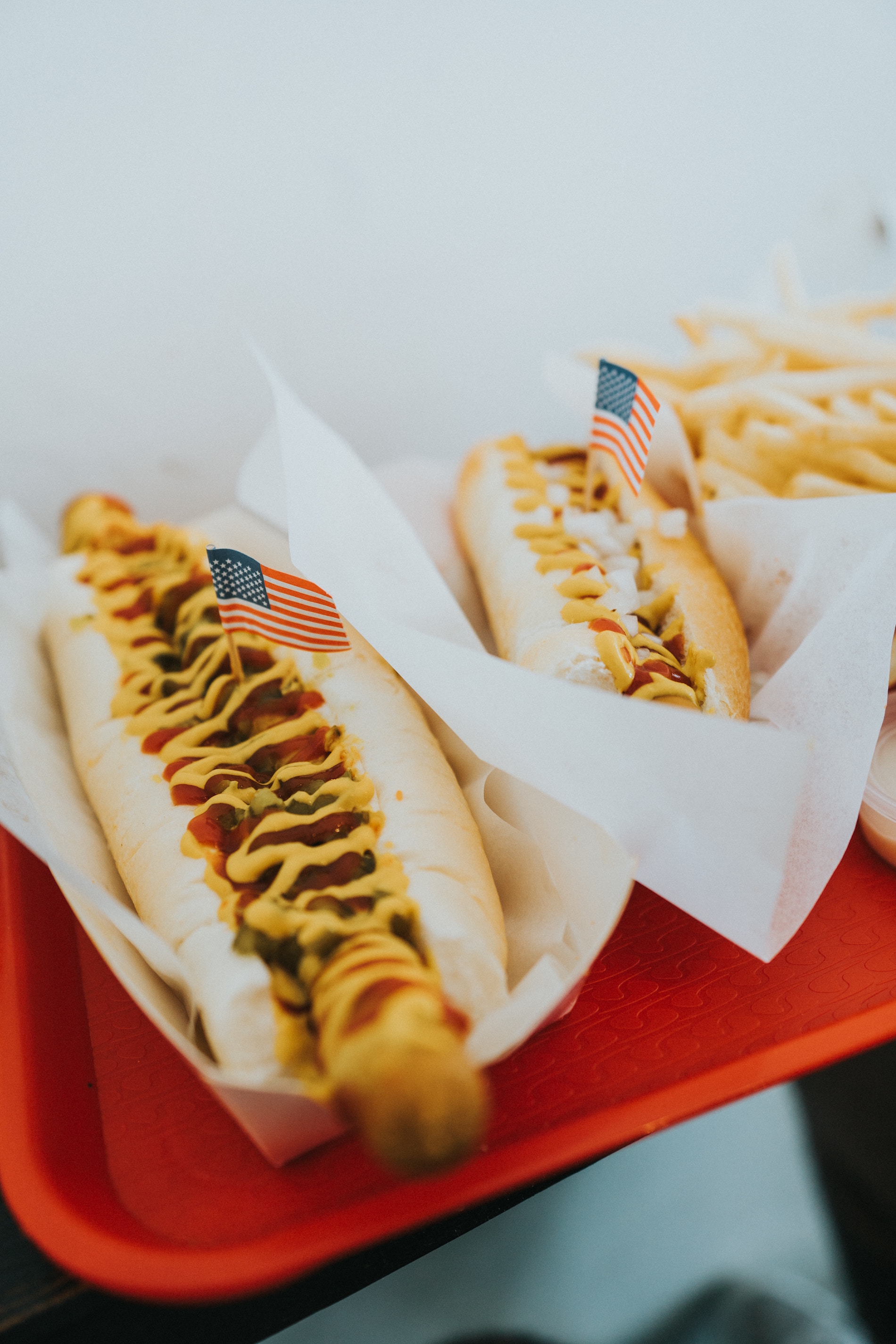 Get your science on…
Red, White & Boom at Adventure Science Center
Celebrate the Fourth of July with a view of Nashville's spectacular downtown fireworks show from the Adventure Science Center lawn. Don't worry about parking! Don't fight the downtown traffic! Just bring your family to Adventure Science Center and enjoy this exclusive nighttime event. Rain or shine, there will be a variety of STEAM activities for everyone to learn and have fun. Watch as incredible science experiments are performed to discover where the variety of colors in fireworks come from. There may even be a couple of explosions before the main fireworks show kicks off!
Please note: Tickets to the Red, White & BOOM fundraising event are not included with general admission on July 4th. View the link below to purchase tickets.
More info here.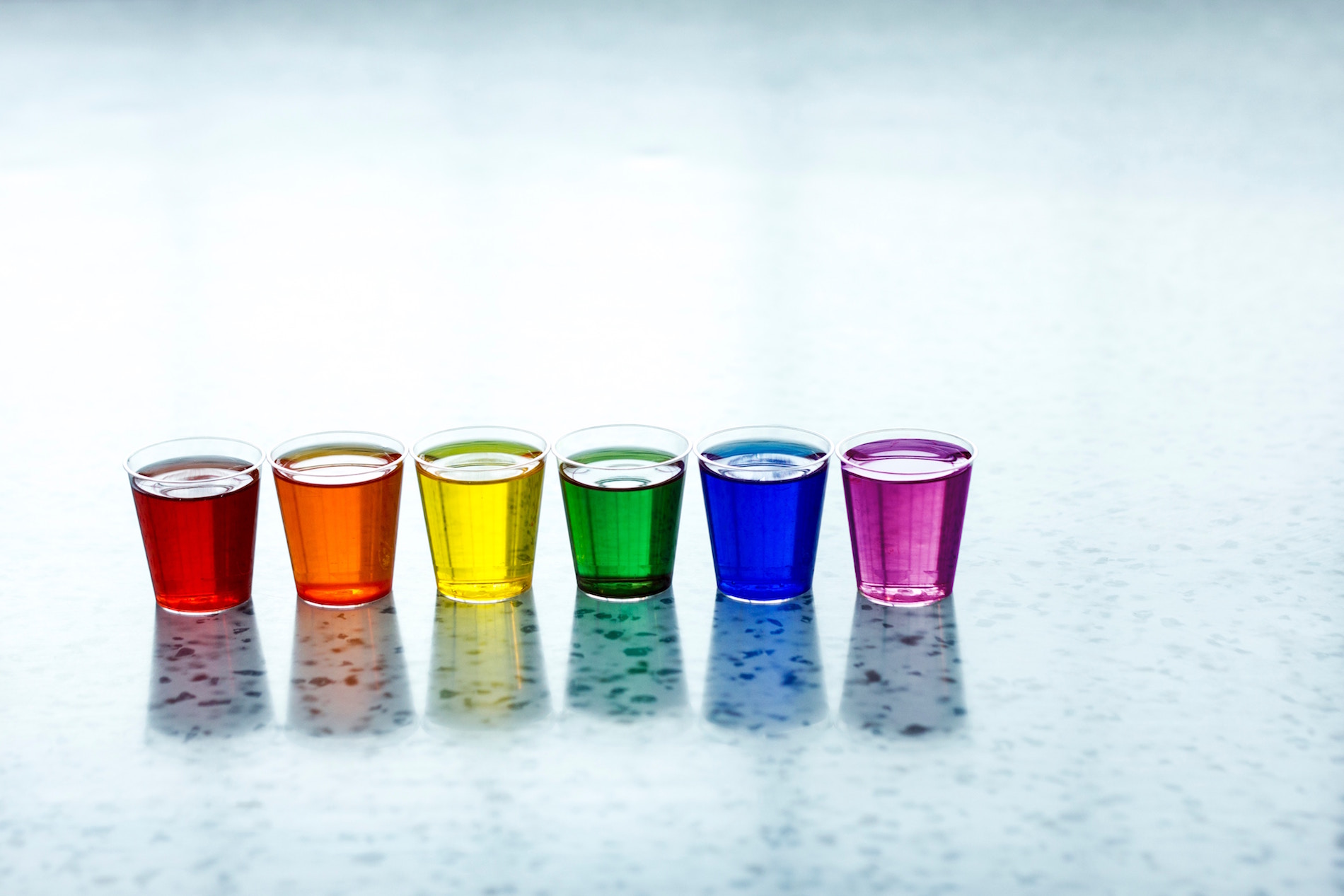 Celebrate with neighbors…
Independence Day festivities are planned throughout the week in the following communities:
Click on any of the above communities for more information about their July 4th celebrations!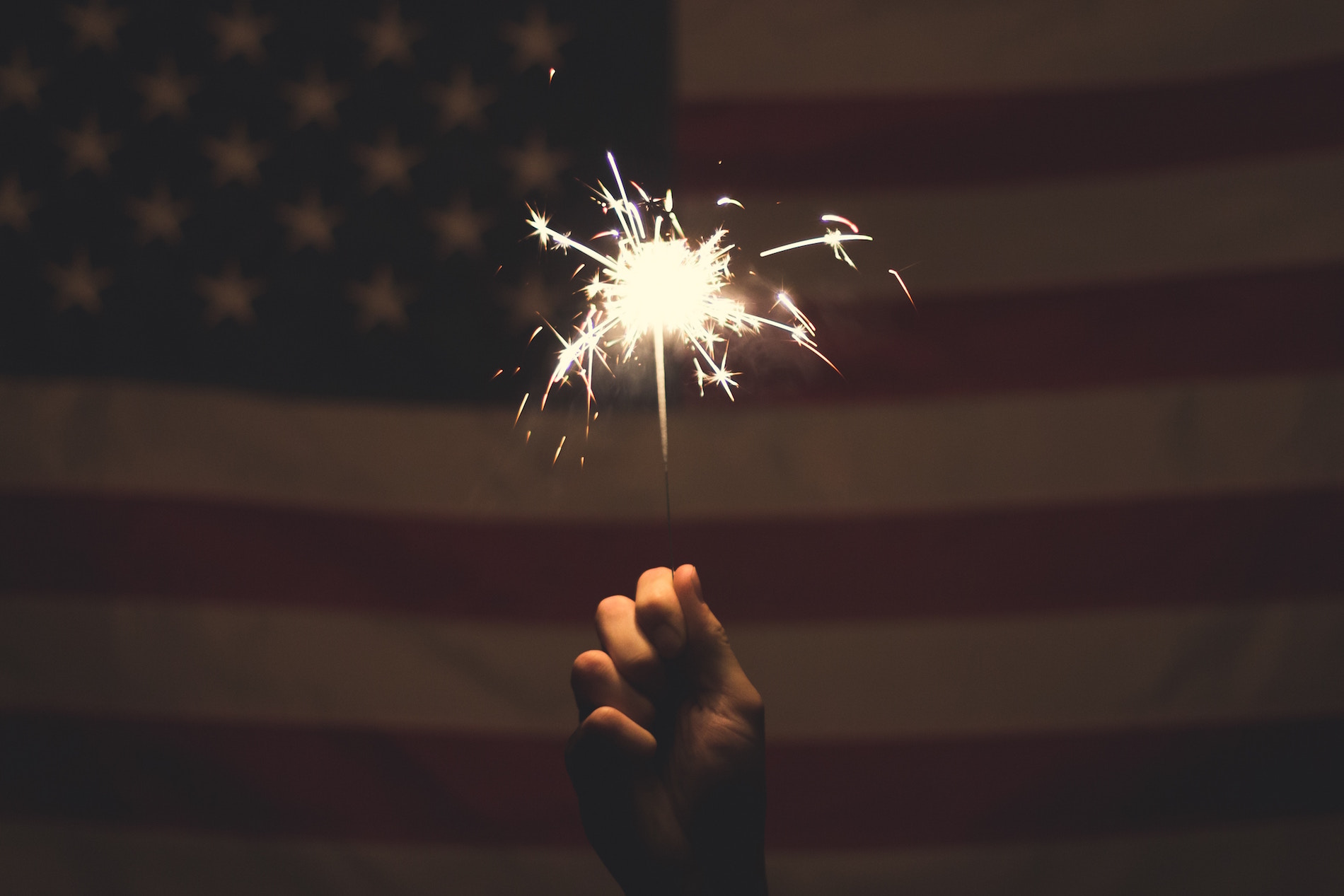 Where to Stay
If you're visiting Nashville from out of town for the 4th of July and haven't booked your accommodations yet, here are a few suggestions that might make your stay more enjoyable and you may even get a rooftop view of "one of the country's largest fireworks shows!"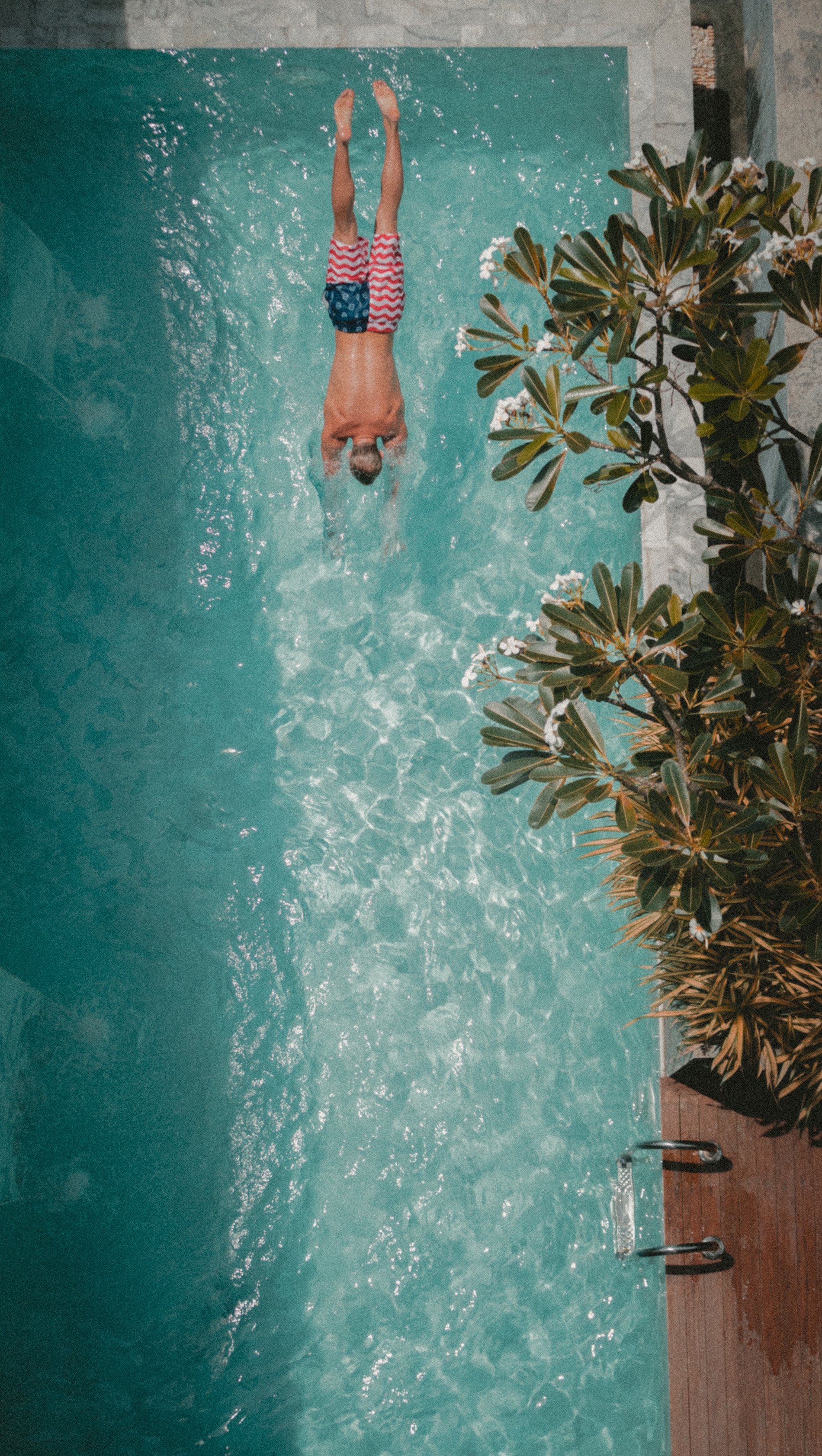 Wishing you a happy and safe holiday!
If you plan on celebrating the Fourth at home with fireworks purchased from a local fireworks stand, we recommend visiting FireworkSafety.com for safety tips and rules by State.
window.dojoRequire(["mojo/signup-forms/Loader"], function(L) { L.start({"baseUrl":"mc.us13.list-manage.com","uuid":"b3560441a030ec3ce9b8bfb77″,"lid":"4f35c52094″,"uniqueMethods":true}) })